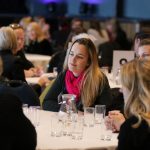 INTERNATIONAL Women's Day 2019 has been marked in East Sussex with an event aimed at inspiring female leaders of the future.
The mass mentoring event matched female leaders from fields such as politics, local government, the emergency services and the charity sector with women in the earlier stages of their career.
The East Sussex County Council-hosted event, at Bexhill's De La Warr Pavilion, marked Friday's (March 8 2019) annual global celebration of the achievements of women, which also aims to accelerate gender equality.
It included group discussion in which mentors and mentees tackled themes including leadership, maintaining work-life balance and building confidence.
Becky Shaw, county council chief executive and one of the mentors, said: "This event proved a really valuable opportunity for women across East Sussex to support and learn from each other as they build their careers.
"While there has been a lot of progress over the years, the fact is that women still face hurdles men don't and remain under-represented in the leadership roles in many areas of society.
"It was very rewarding to be able to mark International Women's Day with an event which hopefully will have helped inspire women to fulfil their potential and succeed in their chosen career."
Topics discussed included the characteristics which make a good leader, how to fulfil a leadership role while maintaining a good work-life balance and tips and tricks for building confidence.
Mentors included representatives from organisations including the county, district and borough councils, Sussex Police, East Sussex Fire and Sussex-based charities.
One of the attendees, Alice, from Uckfield, said: "'I feel it is really valuable to prioritise time to develop our leadership styles and have enjoyed this session with so many keen and intelligent women.
"I think we can develop a strong and vibrant culture in our County and look forward to the role I can play in it."
This year's International Women's Day ran under the theme #BalanceforBetter, calling for greater gender balance, raising awareness against bias and taking action to promote equality.
More information is available at www.internationalwomensday.com
Mentors at the event were:
– Becky Shaw, Chief Executive, East Sussex County Council
– Di Roskilly, Executive Coach, Mentor and Consultant, former Assistant Chief Constable, Sussex Police
– Kathryn Hall, Chief Executive, Mid-Sussex District Council
– Jennifer Twist, Chief Executive, Care for the Carers
– Dawn Whittaker, Chief Fire Officer, East Sussex Fire and Rescue Service
– Julie King, Group Manager, Hastings and Rother, East Sussex Fire and Rescue Service
– Kay Holden, Assistant Director, Adult Social Care and Health, East Sussex County Council
– Cllr Sylvia Tidy, Cabinet Member – Lead member for Children and Families, East Sussex County Council
– Beth Lawton, Chief Digital and Information Officer and Chair of the Women's Network, Sussex Partnership Trust
– Jane Hartnell, Director of Corporate Services and Governance, Hastings Borough Council
– Rachel Travers, Chief Executive, Amaze
– Cllr Gill Mattock, Mayor of Eastbourne