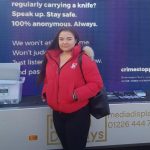 THE county's Youth Cabinet has given its backing to a Sussex Police campaign to tackle the growing issue of knife crime.
With a vote among young people in East Sussex putting 'tackling knife crime' as their highest priority, Youth Cabinet member Holly Bobbett attended the launch of Operation Sceptre.
Speaking at the launch, which took place during national knife crime awareness week, East Sussex Youth Cabinet member, Holly said: "I want a better future for young people my age. I don't want to see more victims. I want to see more services available to prevent young people carrying knives.
"We all need to work together to make sure young people feel safe and understand the dangers and consequences. We need to invest in the next generation."
Sussex Police spent the knife crime awareness week visiting schools, colleges and youth events to educate young people about what they can do if they feel pressure to carry a knife and what to do if they feel in danger. They also held a knife amnesty.
Identified as a top priority by their peers, members of East Sussex Youth Cabinet have also launched their own campaign – Tackle Knife Crime.
The Youth Cabinet campaign, supported by the Sussex Police Community Fund, aims to survey young people about their fears and perceptions of knife crime.
The Youth Cabinet will also work with the local authorities, schools and Sussex Police to develop a film about the issue in the next few months. The film will include voices from young people from across the county to share their views on knife crime in a bid to tackle the growing issue.
The short film will be used in East Sussex County Council's #kNOwkives project which works with young people to help them make safe choices and with parents and professionals to help them understand the dangers and teach them strategies for dealing with knife crime issues.
The film will also be available for wider campaigns to highlight the issues.
Ends.