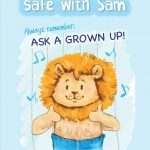 A COLOURFUL new story book and resource pack for teachers and parents aims to protect thousands of young children across East Sussex from accidental poisoning.
Launched to coincide with Child Safety Week, June 3 to 9 2019, Staying Safe with Sam uses interactive stories to help youngsters stay safe around laundry and cleaning products.
Produced by national charity the Child Accident Prevention Trust, and sponsored by the trade body UKCPI – UK Cleaning Products Industry Association – the resource has been distributed to reception classes countywide.
Darrell Gale, Director of Public Health at East Sussex County Council said: "Last year, an average of three children under-five attended an East Sussex A&E every week due to accidental poisoning, with laundry and cleaning products a common cause.
"Our rate of emergency hospital admissions for accidental poisoning in under-fives is significantly higher than the England average, so we're really pleased East Sussex is one of only two counties in the whole of England chosen to roll out this important new safety resource."
Katrina Phillips, Chief Executive of the Child Accident Prevention Trust said: "While cleaning and laundry products make our lives much easier, if they get into the hands of unsuspecting young children, they can cause serious harm.
"Staying Safe with Sam is a fun way of teaching children how to keep themselves and their younger brothers and sisters safe. We're pleased to be partnering with East Sussex County Council on this important project."
Each reception class in East Sussex has received a free copy of Staying Safe with Sam, comprising:
– A rhyming story book with four accident scenarios
– A teacher's handbook with curriculum links, a lesson plan for each of the four scenarios in the story book, plus an activity bank of ideas for classroom extension activities
– A home-link pack for every child, comprising a cover letter, homework sheet, mini story book, fact sheet and poster to take home to their parents
Following an initial pilot, if this localised roll-out  is successful in contributing towards a reduction in the number of young children who are taken to hospital due to accidental poisoning, Staying Safe with Sam could be rolled out on a national scale.