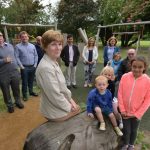 RESIDENTS and community groups in and around Newhaven are celebrating the completion of schemes delivered through a £400,000 cash boost from the town's energy plant.
All eight projects which were allocated East Sussex County Council funding as a result of the Newhaven Energy Recovery Facility development have now been completed.
Schemes to benefit included a new education centre exploring pre-historic life at Newhaven Fort, a bespoke bandstand on Denton Island and new play equipment in South Heighton.
The money was made available after landscaping and tree planting was completed in the town and surrounding areas – part of a planning agreement with the operator, Veolia.
James Harris, East Sussex County Council assistant director of economy , said: "It's great to see all of these schemes come to fruition as a result of the energy plant development.
"There's a really varied mix of schemes but the one thing they all have in common is they provide real and lasting benefits to residents of Newhaven and the surrounding area.
"It was a real pleasure to be able to learn about some of the projects and the people who made them happen, and to see the difference they're making in the community."
Other projects to benefit included an all-weather path at Piddinghoe, a new roof at the Hillcrest Community Centre, restoration of Castle Hill dew pond and information boards at Tide Mills.
The energy plant, sometimes referred to as 'Newhaven Incinerator', opened in 2012 and processes around 210,000 tonnes of non-recyclable waste a year into enough power to supply 25,000 homes.
The projects that benefitted are detailed below including the funding awarded, and organisations that received money:
– Restoring and relining Castle Hill dew pond and installing new signage boards (£7,200 to Castle Hill Group)
– New information boards at Tide Mills explaining the history of the historic settlement in the Ouse Estuary (£11,800 to Sussex Archaeology Society )
– Resurfacing work to create an all-weather path alongside the River Ouse at Piddinghoe (£16,500 to Piddinghoe Parish Council)
– A new roof at Hillcrest Community Centre, in Newhaven (£158,300 to Hillcrest Community Partnership)
– Newhaven Fort Education Centre – an ancient history education centre showing life from the Palaeolithic to the Iron Age (£55,000 to Wave Leisure Trust)
– A new telephone system and computer equipment to offer Citizens Advice services for people in Newhaven area (£8,900 to Lewes District Citizens Advice)
– A new bespoke, local artist-designed timber and metalwork bandstand on Denton Island, (£22,700 to Newhaven Town Council)
– New play equipment and planting at The Hollow recreation ground in South Heighton (£119,300 to South Heighton Parish Council)