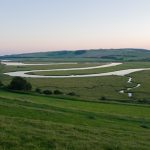 AN East Sussex beauty spot could benefit from £1.4 million of new investment under plans to protect and enhance the future of four countryside sites.
Cllr Nick Bennett, East Sussex County Council deputy leader, will next week consider a proposal to transfer ownership of Seven Sisters Country Park to the South Downs National Park Authority.
If given the go-ahead as preferred new owner, the organisation has pledged £1.4 million to improve the environment and visitor facilities at the 280-hectare site near Seaford.
Cllr Bennett will also decide on proposals to transfer the Ouse Estuary Nature Reserve and Riverside Park countryside site to Newhaven Town Council, and Ditchling Common Country Park to Sussex Wildlife Trust.
The four sites were among those identified for possible transfer in the county council's Countryside Access Strategy, which was approved by cabinet two years ago.
Rupert Clubb, county council director of communities, economy and transport, said: "If approved, this move would protect these much-loved sites and enhance them as places to be enjoyed for generations to come.
"We're proposing transferring sites to not-for-profit organisations with expertise in conservation, involving local communities and improving the visitor experience.
"All the sites will remain unspoilt, in public ownership and fully accessible to residents and visitors to enjoy the stunning countryside East Sussex has to offer."
Trevor Beattie, chief executive for South Downs National Park Authority, said: "We are grateful to East Sussex County Council for considering our proposal to further enhance this wonderful national and international icon.
"If approved, we look forward to working with the county council and many other partners to deliver a world-class visitor experience while also increasing the biodiversity of this precious landscape."
Under the plans, Newhaven Town Council would receive a freehold on the Ouse Estuary Nature Reserve and a long-term lease on Riverside Park, while Sussex Wildlife Trust would lease Ditchling Common Country Park.
Jacky Main, clerk to Newhaven Town Council, said: "We are delighted that East Sussex County Council is considering allowing Newhaven Town Council to take ownership of these two much loved open spaces to enable them to be looked after by the local community and enjoyed for many, many years to come.
"If approved, we will work with the county council, the local community and other partners to enhance the ecology of both sites and to improve recreational and educational opportunities for local people and visitors to the town alike."
Henri Brocklebank, director of conservation at the Sussex Wildlife Trust said: "We look forward to the exciting opportunity to further the work of ESCC in caring for this site on behalf of the local community and wildlife.
"We look forward to meeting and working with everyone who values this treasure of a Country Park on the doorstep of Burgess Hill.
"We know there is much to do in conserving and enhancing this site, and to manage public access to the benefit of the many users who love this natural greenspace – one of the priceless jewels of the Green Circle that rings the town."
Cllr Bennett will make his decision at the transport and environment lead member meeting on Monday, June 17 2019 at 2pm. More information is available in the meeting papers at https://democracy.eastsussex.gov.uk/ieListDocuments.aspx?CId=177&MId=3808&Ver=4
The county council is still considering potential options for the following other sites identified in the Countryside Access Strategy: Chailey Common Local Nature Reserve; Weir Wood Local Nature Reserve, near Forest Row; part of Shinewater Park in Eastbourne; and land by Camber and Broomhill Sands.
If no agreement is reached on transferring these sites to a suitable organisation, the county council will continue to run them.