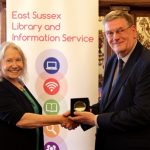 A MYSTERY adventure in which a boy's life changes forever when a giant sinkhole appears under his home has been named East Sussex children's favourite book.
The Jewelled Jaguar, by Sharon Tregenza, came first in a poll of county schoolchildren to claim top prize in the East Sussex Children's Book Awards, at a ceremony at Eastbourne's Royal Hippodrome Theatre attended by 130 children.
The event was the climax of a series of activities including author events at which the five shortlisted authors read from their book to children at local schools and libraries.
Cllr Bill Bentley, East Sussex County Council lead member for communities and safety, said: "The competition proved to be a great success which really fired the children's imagination.
"It's a tremendous way of fostering and encouraging their love of reading, while celebrating the wealth of really high quality literature for young people that's out there.
"It was great to see staff at our libraries sharing their own passion for literature and the awards event was a perfect way to bring the competition to a close."
The competition saw an initial list of 10 books selected by library staff whittled down to a shortlist of five by children from across the county, who then went on to vote for their ultimate favourite.
A total of 36 schools took part and 620 children attended author events held in March in Battle, Bexhill, Broad Oak, Eastbourne, Hastings, Newhaven, Seaford and Uckfield.
Addressing children at the awards event, Sharon Tregenza said: "Books are the best thing in the world and you can get lots from them.
"As authors we learn a lot from you. We listen to your feedback and your ideas and we go home and try and write even better books for you."
Two other shortlisted authors, Sharon Cohen, author of The Starman and Me – described as 'ET meets Stig of the Dump' – and Ally Sherrick, who wrote World War Two adventure The Buried Crown, also attended the event.
The competition was open to paperback books not forming part of a series, written by UK-based authors, published in the year prior to the competition launch last summer.
The five shortlisted books were:
– Sharon Cohen – The Starman and Me
– Sarah Lean – The Sand Dog
– Ally Sherrick – The Buried Crown
– Sharon Tregenza – The Jewelled Jaguar (winning book)
– Ross Welford – The 1000 Year Old Boy