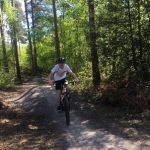 PEOPLE in East Sussex are being urged to get on their bikes and get fit this summer – and follow some simple tips to stay safe on the road.
East Sussex County Council is backing Our Bikes Our Adventure, a campaign by national cycle training body The Bikeability Trust, which urges people to grab their bike and explore the countryside.
Riders can make sure they stay safe by following some simple guidelines, including ensuring their bike is in a good condition, wearing suitable clothing and following the rules of the road.
Meanwhile, Bikeability offers a range of training courses for children and adults of all abilities to brush up their cycling skills during the summer.
Cllr Bill Bentley, county council lead member for communities and safety, said: "Getting on your bike is a great way of exploring the wonderful countryside we're blessed with in East Sussex.
"It also offers a wonderful opportunity for families to stay fit, active and healthy and to have fun together outdoors during the summer holidays.
"While we have an extensive network of safe cycle routes, byways and bridleways, people may also need to venture onto the roads where appropriate, and following a few simple tips can ensure they stay safe in the saddle."
Tips for cyclists include:
– Ensure your bike is working properly, tyres are inflated and brakes and gears are working –
many cycle shops offer a free basic service to ensure bikes are road worthy
– Wear a helmet and clothing that is comfortable and visible, layer lightweight clothes for unpredictable weather and don't forget sunscreen
– Check your shoelaces are tied and nothing is hanging down which could get caught in the chain or brakes
– Plan your route, thinking about how far you want to travel and which roads you'll take
– Stock up on food and drink or plan a cafe stop into your route
– Ride confidently and if travelling in a group ride as a unit rather than dashing across junctions individually – parents should ride behind their children and slightly to the right
– When passing parked vehicles and other obstacles, check there are no cars close behind and move into the middle of the lane, allowing you to avoid hazards and making you most visible
– At junctions look behind and ahead before proceeding and always signal where it would advise other road users
Cycle training courses for adults and children are offered through Bikeability at Eastbourne Cycle Centre and can be booked online at www.eastsussex.gov.uk/bikeability or by calling 01273 482490.
Details of cycle routes in East Sussex, including National Cycle Network routes, byways, bridleways and countryside trails are available at www.eastsussex.gov.uk/cycling