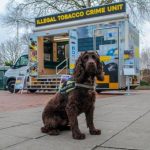 PEOPLE have the chance to meet specialist tobacco sniffer dogs at a series of events in Hastings and Bexhill next week (August 12 to 16, 2019).
East Sussex Trading Standards is running a Tobacco Awareness Week, at which people can come along and find out more about the effects of smoking on health.
People can also give information about illegal tobacco products being sold in the area and officers, accompanied by the dogs, will be able to take enforcement action.
People can drop in to Hastings town centre, outside Debenhams, on Monday (12), Tuesday (13), Thursday (15) and Friday (16) and at Bankers Corner / Devonshire Square , in Bexhill, on Wednesday (14) from 10am to 4pm every day.
To anonymously report someone who is supplying or smuggling illegal tobacco, call 0300 999 6 999.
EDIT – dates for these events have been changed – the event in St Leonards has been cancelled due to unforeseen circumstances