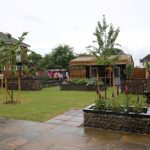 A NEW garden has been designed to promote wellbeing for guests who will be staying at a respite service for adults with learning disabilities.
Created using recycled or locally-sourced material, the garden at Grangemead Respite Service, in Hailsham, has undergone a complete renovation over the past 12 months and is now ready for respite guests and visitors to enjoy.
The project at the county council service in Hailsham, which provides short breaks and respite, was a collaboration between the University of Brighton's Community 21 team and staff and guests of the service.
The Community 21 team carries out sustainable design projects that often involve recycling, enabling people in communities locally and nationally to play an active role in shaping their own neighbourhoods.
Cllr Carl Maynard, East Sussex County Council's lead member for adult social care and health, said: "Grangemead is a fantastic facility which now benefits from an amazing outdoor space which will promote good health and wellbeing among its visitors.
"This has been such a positive project which has presented some great opportunities to all those involved. They should be extremely proud of what they have achieved together."
Every item in the garden is either second-hand or locally-sourced and around 10 tonnes of garden waste was recycled when developing the space.
Additions include bird boxes made from feathers from old duvets, a bug hotel, a memory table to help guests remember and discuss days out, a maker space to encourage guests to be creative and artwork made using upcycled carrier bags and fruit nets.
A vegetable garden, created using recycled materials, will supply the kitchen, while guests can keep an eye on all the wildlife the garden attracts using camera traps.
As well as the chance to be creative, the project has helped shape new research by Community 21 into how a service like Grangemead can work creatively with the local community to enrich people's lives, and how inclusive collaboration can lead to great ideas and achievements that can be shared beyond Grangemead.
The garden was officially opened by radio DJ Daniel Ives, with entertainment from Daniel Wakeford from Channel 4's Undateables and Delta 7.
Ends