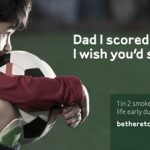 A HARD-hitting and heart-wrenching campaign launches today (Monday, September 2 2019) across East Sussex highlighting the devastating impact of tobacco on smokers and their loved ones.
The 'Be There Tomorrow' campaign urges smokers to quit now using local help available to them.
An estimated 62,000 East Sussex residents smoke and, in the coming year, more than 1,000 adults in the county are predicted to die of smoking-related diseases.
Although smoking prevalence is decreasing overall in East Sussex, parts of the county still have high numbers of smokers. In some wards in Hastings nearly one in four adults smokes.
The 'Be There Tomorrow' campaign features a poignant and candid television advert which will first be aired today in homes across East Sussex and will also be promoted on social media.
It highlights the special moments in life that one in two smokers who don't stop early enough are likely to miss out on by dying early from tobacco-related disease.
East Sussex County Council's public health team is supporting the campaign as part of a county-wide approach to cut smoking-related early deaths.
Darrell Gale, director of public health for East Sussex County Council, said: "This new campaign is based on a fact that is not well known among the public that one in every two long-term smokers will die early of a tobacco related disease. We're saying it doesn't have to be that way for those still smoking in East Sussex.
"We know that most smokers want to quit but often put it off until it's too late to avoid serious damaging disease or early death.  We all know smoking kills but somehow we think it will kill 'other people', not us.
"There is so much free help available locally to help you quit smoking. A lot of smokers aren't aware that you're up to four times more likely to quit smoking successfully if you go to your free local Stop Smoking Service than if you try to quit using willpower alone.
"They are based in easily accessible locations, such as pharmacies and GP surgeries, and can give you help and advice, from learning how to cope with cravings to finding the best way to help you quit."
Sandy Goodey, 66 from Horam, has recently quit smoking using her local stop smoking service. She smoked on and off for 45 years and before she quit was smoking around 20 cigarettes a day.
She said: "This was my third attempt to stop smoking but this time was different as I had a bad chest infection and knew it wasn't helping my asthma.
"I was sat in the GP surgery and saw cards advertising the stop smoking service. I thought 'why am I doing this to myself? I don't want to die early' and called straight away and booked an appointment."
Sandy attended sessions at the stop smoking service based at Heathfield Community Centre and didn't look back.
She said: "I was spending about £250 a month on cigarettes and now have much more money left over at the end of each month. I am treating myself to things for the house and have just bought a new bed.
"I can walk better now and I am not out of breath. I have no intention of ever smoking again and no urge to smoke. Everything smells better too!"
Sandy would encourage anyone considering quitting to make 2019 the year they become smokefree.
She said: "Think of your health and the money in your pocket; you will feel so much better. Give it a go. If you don't do it first time you can go back. It's worked for me and others. I wouldn't have quit without the stop smoking service."
The campaign TV advert shows an empty home as an answerphone plays heart rending messages from loved ones desperate to speak to their dead relative to tell them about key moments they have missed.
It concludes with the shocking statistic that one in two smokers in the UK will die early from smoking-related diseases.
The campaign aims to encourage people to quit for their families and loved ones as well as their own health to avoid a premature death.
The 'Be There Tomorrow' television advert will run for four weeks. To find out more about the campaign, information to help quitting for good and to find your local free Stop Smoking Service, visit www.betheretomorrow.co.uk