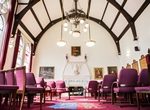 PEOPLE planning a wedding, civil partnership or other ceremony can get a helping hand in preparing for their big day at an event in Hastings.
Following a successful event last year, Ceremonies in East Sussex is throwing open its doors again for the second Wedding Fair and Ceremonies Open Day at Hastings Town Hall.
The event, on Saturday, October 12 2019, will give people the opportunity to view the ceremony rooms at the Grade II-listed building in Queens Road.
Visitors can find out about the various ceremonies and services offered by Ceremonies in East Sussex and East Sussex Registration, including weddings, civil partnerships, naming ceremonies, renewal of vows and outdoor celebrations.
People will also be able to meet registers and celebrants, who will be on hand to take questions, discuss their ceremony plans and take bookings, while a range of local suppliers will be in attendance to offer inspiration and advice.
Nick Skelton, East Sussex County Council assistant director of communities, said: "Hastings Town Hall is a superb venue which provides a beautiful backdrop for people's special day.
"This event will give people the chance to view the facilities on offer, including the three ceremony rooms and meet representatives of local companies that may be able to help them.
"They can also discuss their plans with our highly-trained registrars and celebrants and find out more about the ceremonies and services on offer in Hastings and around the county."
The event is free and open to all and runs from 11am to 3pm. More information about ceremonies in East Sussex is available online at www.ceremoniesineastsussex.co.uk