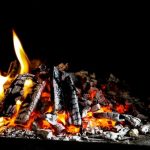 ISSUED ON BEHALF OF SUSSEX AIR
PEOPLE across Sussex are being asked to take part in a survey about how they heat their homes – and could win themselves a stock of energy-efficient wood.
The air quality partnership Sussex Air, made up of 15 local authorities, is running the survey, which is aimed at finding out more about how people heat their homes.
The south east has the highest rate of domestic wood burning in the country, with one in 10 homes burning wood, and damp wood is smokier, less efficient and more polluting than dry wood.
Through its Clean Burn Sussex project, Sussex Air aims to improve air quality by helping people choose cleaner, more efficient fuels.
People taking part in the survey can win a bulk bag of energy efficient wood or one of 100 moisture detectors, that check if wood is ready to burn.
They will also receive advice on how they can become more energy efficient and environmentally friendly along with information on any funding available to help them switch.
Nadeem Shad, chair of Sussex Air, said: "As the temperatures start to drop, many of us have started to turn on the heating or light a fire.
"Lots of people love an open fire, but wood smoke produces harmful gases and particles and can have a detrimental impact on the air quality of whole neighbourhoods.
"Damp wood in particular creates an awful lot of smoke and open fires produce four times more pollution than wood-burning stoves.
"Improving how we burn helps reduces pollutants, smoke and soot, increases heat output, makes the fire easier to light and can also save you money.
"We'd encourage as many people as possible to take part in our quick, simple survey – they could end up saving themselves some money as well as helping the environment."
People can take part on the survey online at http://www.sussex-air.net/Cleanburn/clean-burning.aspx