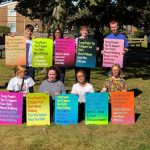 YOUNG people in East Sussex are offering their 'top ten tips' to help parents and carers support children's mental health.
The guide was devised after a survey of almost 1,000 people found children, parents and carers had different ideas on what would help youngsters' emotional wellbeing.
It includes simple tips such as being open and honest, picking the right time to talk, trusting children to know their own mental health and to 'listen first, talk later', and also reminds parents and carers to look after their own mental wellbeing.
The tips, compiled by East Sussex Youth Cabinet and Seaford Youth Forum, appear on posters and postcards to be distributed first in Seaford and then around the county in the spring.
The initiative will be launched as a social media campaign from Monday, November 18 2019 and shared at an event with parents and carers at Seaford Head School on Wednesday, December 11 2019 from 4 to 6pm.
East Sussex Youth Cabinet member Bea Montgomerie-Christie, 17, said: "In our research we found a lot of information on mental health, but it wasn't always accessible or useful for parents and carers.
"After consulting with hundreds of young people and parents and carers across East Sussex, we found that they really want support and good advice, and would benefit from knowing about websites and other resources that can help."
The young people, who last year compiled a top 10 tips guide for schools, spoke to teachers, families and health professionals and surveyed 589 young people and 368 parents and carers.
They found parents overestimated how effective they were at having open and honest conversations with their children and how likely their child was to talk to them about any issues.
While parents and carers thought their children would talk to them first if they felt anxious or distressed, young people said they would be more likely to speak to friends, siblings or teachers.
Atiya Gourlay, equality, participation and partnerships manager at East Sussex County Council, said: "The young people have developed an eye-catching and creative series of images to promote the tips for parents and carers.
"The project is a showcase of the benefit of involving young people and giving them the opportunity to play a leading role in communication campaigns.
"By providing simple but effective tips and directing adults to other resources available, young people in East Sussex are helping to develop adults' confidence and promote mental wellbeing."
Some of the young people involved were interviewed about the scheme for BBC Sussex's Raising Teens programme, recorded by the media production company Make (Good) Trouble, which is due to air on Monday, December 16 2019 at 8pm.
Any parents or carers who would like to attend the launch event at Seaford Head School on December 11 are asked to book a place by emailing sam.whittaker@seafordhead.org
Information for parents is available online at the dedicated East Sussex-focused website www.openforparents.org.uk
The project involved East Sussex Youth Cabinet, Seaford Youth Forum, East Sussex County Council, NHS Clinical Commissioning Groups, Waves Parenting Advice Service, Seaford Head School and the media production company Make (Good) Trouble.
Top Ten Tips guide for parents in full:
(1) For your child's mental wellbeing – Find the right time and place to talk
After eating, during mealtimes, just before bed
When your child is upset, don't force conversations; find another time
Try talking without direct eye contact; in the car, dog walking or doing the dishes
(2) Be brave and start the conversation
Be open and honest
Listen
Don't judge
Don't pressurise or confront
Be brave and start the conversation
(3) Respect is vital and so are boundaries
Don't share their feelings with others, unless your child agrees
(4) Trust your child to know their own mental wellbeing
Don't betray their trust if they tell you about their feelings
It's natural to worry, but try not to 'helicopter' around your child
Believe them if they tell you they are stressed
(5) Dealing with your child's mental wellbeing, access to quality information could help
Find out the difference between mental health and wellbeing
Use helpful resources from www.openforparents.co.uk
(6) Look after your own mental wellbeing
Look after yourself; it's hard to support others if you are feeling overwhelmed
Find another trusted adult who your child is comfortable to talk to
Be a role model by looking after your own mental wellbeing
Be honest about your struggles and how you got through difficult times
(7) Trust your instincts about your child's feelings
Regularly check in and ask how they are; the effort is always appreciated
If you see sudden changes in their mood or behaviour, trust your instincts and reach out to them
Trust your instinct and ask for help if you think they are unsafe
(8) When talking about your child's mental wellbeing; listen first, talk later
It's often best just to listen: you don't need every answer
Hear everything and give them time to finish talking
Silence is ok; listening without answering can be positive
(9) Social media is complicated and not all bad.
Agree everyone's healthy online boundaries and stick to them
When monitoring use, remember it's not all bad; strictness can be a barrier to honesty
Learn how and why your child uses social media
Social media changes fast and they are the best teachers
Have agreed tech-free time when you all put down gadgets
(10) For your child's mental wellbeing: there is no one perfect solution; try different approaches
There is no simple fix to helping your child's wellbeing
Keep trying alternatives and different strategies