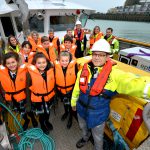 MORE than 1,000 students from across East Sussex will experience the world of work as the annual Open Doors scheme returns – double the number who benefited last year.
Throughout November, 35 businesses from Forest Row to Hastings will open their doors to students allowing them to experience the workplace and inspiring career choices.
Students from Years 7 to 13 can discover what it's like to work in a wide range of businesses including civil engineers, website designers, a gallery, a museum and an offshore wind farm. East Sussex County Council will also be opening its doors again this year.
The aim of the initiative, which is run by East Sussex County Council and supported by Skills East Sussex – the county's employment and skills board, is to boost the career prospects of young people and inspire career choices by enhancing their knowledge and experience of the workplace.
Julian Perrott, managing director of Eastbourne-based BarkWeb Ltd, said: "Open Doors is an excellent initiative allowing students to see and experience a wide variety of work places first hand.
"For us as an employer; we welcome meeting the next generation and showing them first-hand some of what we do in a working day. The whole team get involved, share some of their knowledge and provide tips and resources to those students who want to get ahead and prepare for their career irrespective of age or ability."
He added: "We try to highlight the relevance of what they are being taught and how that is used in our workplace with the aim to inspire them to get 'work interested' both at school and in their own time. Ultimately we can see the value in the time we give to the Open Doors programme by the interest of the students and the questions they ask. Who knows, we maybe meeting future members of our team during these visits."
This year will see three larger events being held during the four weeks including a day at the Towner Gallery, an Into Games creative café at De La Warr Pavilion, a day at The View Hotel in Eastbourne, and a careers day hosted by Gatwick Airport.
Businesses wanting to find out more about taking part in Open Doors or becoming an East Sussex Industry Champion, can contact EnterpriseCoordinator@eastsussex.gov.uk
Businesses taking part in Open Doors 2019 include;
Ashdown Audio Visual, Uckfield, Ashdown Park Hotel, Forest Row, BAM Nuttall, Newhaven, Barkweb, Eastbourne, Gatwick Airport, Cheesmur, Lewes, De La Warr Pavilion, Bexhill, East Sussex County Council, Lewes, Factory Internet, Hastings, Faithful + Gould, Tonbridge, Freedom Leisure, General Dynamics, Hastings, Glyndebourne, Glynde, Hastings Musuem, Horlock Holdcroft, Uckfield, Huw Merriman MP, Bexhill, Into Games, with the DLWP, Marshall Tufflex, Hastings, Metaltech, Hailsham, Morgan Sindall, Hove, NHS, Bexhill, Rampion Offshore Wind Farm, Newhaven, Ridgeview Wine Estate, Ditchling, Screen Solutions, Peacehaven, Sussex Wildlife Trust, Rye, The Bevern Trust, Barcombe, The Depot, Lewes, The Grand Hotel, Eastbourne, The View with the University of Brighton, Eastbourne, Towner Gallery, Eastbourne, TR Fastenings, Uckfield, Vincent Dance Studio, Brighton, Ashdown Hurrey in Hastings, Barracloughs in Bexhill and Wealden District Council.