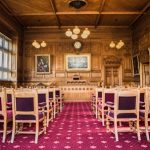 REGISTRARS will be available from midnight on New Year's Eve for couples wanting to be among the first in the country to enter into an opposite sex civil partnership.
Following a change in the law, opposite sex couples can give the required 28 days' notice from December 2, and will be able to sign the schedule and/or hold a ceremony in Eastbourne, Lewes or Hastings from midnight on Tuesday, December 31.
Civil partnerships, currently only available to same-sex couples, provide a relationship alternative to marriage but with the same legal recognition.
Steve Quayle, East Sussex County Council Team Manager for Registration, said: "There are many couples who want to show their commitment to a relationship, but don't feel marriage is right for them. This change in legislation means they can celebrate their relationship and benefit from the legal rights without a marriage ceremony.
"For some, this change in the law has been a long time coming and we want to make sure they can mark this milestone by entering into a civil partnership as soon as possible, which is why our Registrars will be available from midnight on December 31."
Notice has to be given 28 clear days before a civil partnership ceremony by couples attending their local district Register Office – Crowborough, Eastbourne, Hastings or Lewes – by appointment and providing the prescribed paperwork.
Unlike a marriage, there are no set words to a civil partnership. Couples can celebrate in any way they choose but must read a legal declaration and sign the civil partnership schedule in the presence of a registrar and two witnesses in a Register Office or licensed venue.
East Sussex has more than 100 licensed venues including castles, hotels, stately homes and barns. The details of all licensed venues in the county, as well as information about ceremonies and suppliers can be found at www.ceremoniesineastsussex.co.uk
For information on giving notice and booking a civil partnership ceremony, call 0345 60 80 198.
Due to planning restrictions, staff at Crowborough Register Office are unable to perform ceremonies and Civil Partnership signing until 8am on Tuesday, December 31.