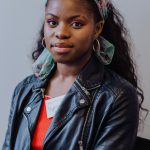 A TEENAGER from East Sussex has landed a prestigious award for the powerful speech on knife crime she delivered in the House of Commons.
Lylian Nunoo, from Eastbourne, was awarded the Paul Boskett Award by the British Youth Council for her emotive contribution to a UK Youth Parliament debate on knife crime held in the hallowed chamber in November.
She talked about the rise of so-called 'county lines', in which gangs use young people to distribute drugs, questioned controversial stop and search techniques and spoke emotively about the effects of knife crime on young people.
In an unscripted speech, the 15-year-old told fellow Members of the Youth Parliament (MYPs): "You can wash away blood but you cannot wash away the effects of knife crime. So many children have died. How many more need to die for us to wake up and realise that is not okay?"
Lylian, who also represented her peers on the East Sussex Youth Cabinet, was one of two MYPs to receive the Paul Boskett Award, launched in 2014 in memory of the trade unionist and youth worker who was a champion of young people's voices.
She said: "There were so many incredible speakers that spoke about very important issues for young people, all of which delivered powerful speeches. I still can't believe I was lucky enough to win the award. I really put my heart and soul into this speech and I'm truly honoured to receive the award. I feel blessed."
"Knife crime is a serious concern that is breaking hearts and homes apart. It is vital that it is taken seriously, and I hope to see that the Government and local officials will recognise knife crime to be among the most important issues for young people, as we all unite together to raise awareness."
Lylian received the award for best contribution by a backbench MYP, voted on by support workers and youth workers from around the country who watched the debate.
Cllr Sylvia Tidy East Sussex County Council lead member for children and families, said: "Lylian should be really proud of being the first young person from East Sussex to win this award, with a passionate and emotive speech which really made an impact on everyone who heard it.
"This shows how young people in East Sussex can really make their voice heard on important issues on a local and national level by standing for the Youth Cabinet or UK Youth Parliament."
More information about East Sussex Youth Cabinet is available online at www.c360.org.uk/youthcabinet while information about the UK Youth Parliament can be found at www.ukyouthparliament.org.uk