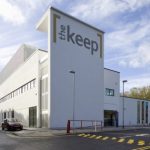 AN East Sussex archive centre will close temporarily as a precautionary measure against coronavirus.
As Covid-19 continues to take hold across the UK, The Keep, in Moulsecoomb, will be closed for six weeks from Monday, March 23 2020.
The centre is run as a partnership between East Sussex County Council, Brighton & Hove City Council and the University of Sussex and holds archives from the East Sussex Record Office, the Royal Pavilion & Museums, Brighton & Hove Local History Collections and the University of Sussex Special Collections.
Nick Skelton, East Sussex County Council assistant director for communities, said: "Although it's a fantastic facility which many people greatly enjoy using, on balance we feel that closing The Keep at this point is the right thing to do.
"Until the closure comes into effect, I would encourage everyone to follow Government guidelines and do not visit the site if you or anyone in your household has experienced symptoms.
"We know that these are worrying times for everyone and we want to reassure people that we are doing everything we can to make sure the essential services that residents rely on suffer as little disruption as possible."
All events, workshops and tours at The Keep are cancelled but it is hoped to reschedule them for later in the year. The Keep website and Facebook and Twitter pages will be updated with the latest news over the coming weeks.
While the public will be unable to visit the centre and view the archives during the closure, the reprographics service will still be available via the website and parts of the collection are already digitised and can be found in the online catalogue.
Customers can order digital or paper copies of these for a small fee. Staff will continue to offer the popular research service and will also respond to phone and email enquiries as quickly as possible.
The Keep services can be accessed online at www.thekeep.info while more information on the symptoms of Coronavirus and steps to take is available www.nhs.uk/coronavirus
Details of The Keep's reprographics services are available at https://www.thekeep.info/sample-page/services/reprographics-and-digitisation/
The research service is at https://www.thekeep.info/sample-page/services/keep-research-service/