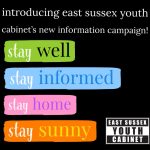 YOUNG people in East Sussex are being helped to survive the lockdown with a new social media campaign run by their peers.
The campaign, running under the banner 'STAY' is aimed at giving quality information to young people – STAY well, STAY informed, STAY home, STAY sunny.
It includes tips about how keep up with school work at home, myth busting about the virus, as well as fun stories to stay positive during the lockdown period.  It brings quality-checked information, advice and guidance in one place.
Devised by the East Sussex Youth Cabinet, the elected body for young people in the county, the campaign features content shared on its Twitter, Facebook and Instagram pages.
It was launched in response to young people's concerns about staying positive and maintaining good mental health, accessing accurate information and adjusting to being at home while schools, colleges and leisure facilities are closed.
Amy Washington-Thurston, a 14-year-old Youth Cabinet member from Heathfield Community College, said "We're living in strange times and young people can sometimes find it hard to adjust and to get information and advice they can trust.
"We thought it would be a good idea to use our social media platforms to support and uplift others. We want everyone to STAY well, STAY informed, STAY home and STAY sunny during the lockdown."
The social media posts include light-hearted memes, stories and videos alongside information and advice from trusted organisations such as the Government, NHS, local councils and voluntary groups.
They will include posts about school closures, home study and examinations, mental health advice and resources and the latest advice on how to self-isolate and stay safe from East Sussex County Council, NHS, Government and leading voluntary organisations.
Cllr Sylvia Tidy, East Sussex County Council lead member for children and families, said: "The current crisis is difficult for all of us but young people may be particularly affected because of the impact on their education and social life.
"I'm really proud that the Youth Cabinet has taken responsibility in such a creative way for helping their peers to access reliable information and to stay positive during the lockdown."
Posts are being shared at 5pm every Monday, Wednesday and Friday on Instagram @east_sussex_youth_cabinet, Twitter @EastSussexYC and Facebook @esyc.official
More information about the East Sussex Youth Cabinet is available at www.c360.org.uk/youthcabinet