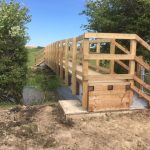 WALKERS on a route through the East Sussex countryside are able to get back on track – after a footbridge washed away by flooding was replaced.
The bridge, east of Hailsham and south of Magham Down, was washed away by flood water along Hurst Haven, the watercourse it crosses, during bad weather earlier this year.
East Sussex County Council rangers rebuilt concrete supports for the new wooden bridge on steel beams, which was transported on the back of a lorry from a supplier in the north of England.
After waiting for ground conditions to dry out, the council's contractor last week (Tuesday, May 5 2020) lifted the new bridge into place, while rangers added the finishing touches, including access steps.
Cllr Claire Dowling, county council lead member for transport and environment, said: "The absence of the bridge has meant walkers using this footpath have faced a lengthy diversion.
"The installation of the new bridge means that the many walkers who enjoy this part of the East Sussex countryside will be back on track.
"I'd like to thank our rangers and our contractors – who were all able to maintain social distancing during the work – for the efficient and professional way they completed the job.
"The new bridge looks fantastic and will provide a safe route across Hurst Haven for many years to come."
More information about footpaths and rights of way in East Sussex is available at www.eastsussex.gov.uk/rightsofway