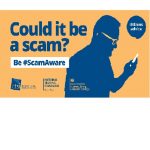 RESIDENTS are being warned about scammers using the covid-19 crisis to con them out of their hard-earned cash.
East Sussex Trading Standards team is using Scams Awareness Fortnight, which runs from June 15 to June 28 to remind the public to be on their guard.
Reports of attempted scams have been among the 360 complaints and enquiries received by trading standards officers since lockdown began and, in May alone, residents across Sussex were reportedly conned out of around £1.2million.
In one East Sussex incident, an elderly resident received a phone call saying workers were in the area and could visit her home to test the air for Covid-19, while another was sent a text message saying he was eligible for free groceries and was required to give personal details to receive a voucher.
Cllr Bill Bentley, East Sussex County Council's lead member for communities and safety, said: "These unscrupulous thieves and criminal scammers are preying on people's anxiety over the ongoing Covid-19 crisis to make money. Fortunately, in these two cases the residents realised something didn't sound quite right, but there are many more who end up losing money to these fraudsters.
"As communities rally together to support each other it can be difficult to know who you can trust. The public should be particularly wary of any offer that involves them giving personal details or handing over money. Don't be rushed into making a decision and, if you are unsure, check with family or friends before signing up for services or accepting offers of help."
Other Covid-19 scams being attempted at the door, by phone, post or online include the offer of virus testing kits, vaccines and miracle cures, overpriced or fake protective products, decontamination services and shopping or medication services.
Richard Strawson, East Sussex Trading Standards team manager, added: "Anyone can fall foul of scammers, particularly at this time of unprecedented uncertainty, but these fraudsters usually target those they consider vulnerable.
"As well as protecting yourself by not rushing into decisions and not handing over personal details if you are unsure, I would also encourage residents to look out for their family, friends and neighbours and help us prevent as many people as possible from losing money to these scammers."
To learn more about different types of scams and how to protect yourself and others, visit www.FriendsAgainstScams.org.uk and complete the free online training.
If you think you have been scammed, contact your bank first, then report it to Action Fraud on 0300 123 2040. For advice, call the Citizens Advice Consumer Helpline on 0808 223 1133.
Ends