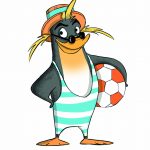 YOUNG readers in East Sussex are being encouraged to join the Silly Squad for a summer of reading fun.
A team of adventurous animals who love to have a laugh and get stuck into all kinds of funny books, will guide four to 11 year olds through The Reading Agency's Summer Reading Challenge.
Those signing up for the Silly Squad, Summer Reading Challenge 2020 can choose from two characters – Izzie and Snook, with the chance to unlock different characters as they complete challenges.
With libraries continuing to be affected by Covid-19 restrictions, this year's event takes participants safely online with activities, incentives, games and quizzes.
Cllr Bill Bentley, East Sussex County Council's lead member for communities, said: "With disruption affecting schools, it is more important than ever to encourage children to keep reading through the long summer holidays and keep their literacy skills sharp.
"Getting children involved with the Silly Squad is a great way to inject a bit of fun into reading and capture their imagination, fuelling a love of books."
The Summer Reading Challenge, which attracts hundreds of thousands of participants across the country each year, started earlier than usual this year in light of lockdown, and runs until September.
As well as book suggestions being available through the Silly Squad website, those taking part can find and access books through the county council's eLibrary.
With an increased number of items available, eLibrary users can find books, audiobooks, eComics and magazines by visiting www.eastsussex.gov.uk/libraries/library-at-home/library-services-for-children/
For more information about this year's Summer Reading Challenge and to sign up, visit https://summerreadingchallenge.org.uk/
Illustrations © Laura Ellen Anderson 2020
Ends