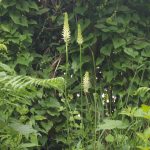 ONE of the country's rarest plants has successfully been reintroduced to a verge in East Sussex.
The county is home to the majority of the UK's Spiked Rampion, with one verge in East Sussex containing nearly 70 per cent of the population of the plant.
Following a conservation project with the Species Recovery Trust, East Sussex Highways has confirmed that Spiked Rampion plants are now flowering near Hadlow Down.
The site, now a designated wildlife verge, was once home to the protected plant before it died out around 20 years ago.
Cllr Claire Dowling, East Sussex County Council's environment lead member, said: "With the majority of Spiked Rampion found in East Sussex it is so important that we do everything we can to support its conservation.
"I am delighted that the effort put into this has paid off and hope that the plant continues to flourish in our county."
As well as the success of the newly established plants, Spiked Rampion is thriving elsewhere in the county with the number of flower spikes increasing from last year.
There are 140 wildlife verges in East Sussex covering 25 hectares – the equivalent to around 35 football pitches, which support species of wild flowers including some threatened with extinction, as well as providing a habitat for pollinators and other insects, animals and birds.
The verges, identifiable by their small yellow flower-shaped marker, are not cut between March and August to allow wildflowers to seed.
Members of the public can propose a new wildlife verge site on the wildlife verges section of East Sussex Highways' website at www.eastsussexhighways.com
Ends.