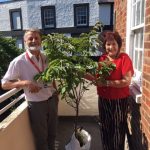 WHEN Jackie spotted an advert looking for people to give vulnerable teenagers a room, she could never have imagined where it would lead.
But 20 years on, as she celebrates her 80th birthday, the mother-of-five says she "wouldn't have missed it for the world".
Over the past two decades Jackie has opened her south coast home up to more than 50 teenagers, helping them learn the basics for an independent life as part of East Sussex County Councils' Supported Lodging scheme.
She said: "I was 60 when I saw an advert that said, 'earn £100 a week for renting a room to a vulnerable teenager'. I thought 'I've had five children and survived that, so I'll give this a go'."
Having gone through the thorough assessment process, Jackie welcomed her first short-term placement and has not looked back.
"It was all very much in my control and that was really important to me," Jackie said. "It's a very gradual process, you get all of the young person's background, get to meet them and are given time to make a decision."
For Jackie, the support she receives from the county council's Supported Lodgings team has been invaluable.
"You always have support, wonderful support all the way through," she said. "You are never, ever alone, you can call at any time about anything that happens, however minor. You can just call and talk it through with someone. I've never felt out on a limb, ever."
Jackie has relied on her own experiences to help her understand what those staying at her home might be going through. To escape issues in her own family home, at the age of 16 Jackie moved into a bedsit.
"Unfortunately, I fell in with the wrong crowd, spent too much time at parties, stopped going to work and then lost where I was living. I ended up homeless and living in Victoria Station. If there was help available, I didn't know of it.
"I think my own background helps me to feel empathy with what these young people are going through."
She added: "These young people become very attached to family, no matter how disruptive they are. What I try to do is listen to them and talk about whether there is another way, ease them towards making their own decisions and think for themselves, not follow what others are saying or doing.
"It's about being a good listener and being there for them. Having time for them is really important."
At 80 years old, Jackie has no plans to stop opening her home to teenagers through the Supported Living scheme.
"People have the wrong idea about teenagers and when they hear the word 'vulnerable' they get the wrong impression," she said. "It's very rewarding and I have had really lovely and interesting people here. I would not have missed it for the world."
For her current placement, the support and help Jackie offers has made a real difference: "Jackie is a very kind and caring person and fun to be with. She always has time to listen to me and help me overcome difficult situations. She always gives me good advice and a different way of looking at things. She has also made me respect myself and made me feel more confident."
Cllr Sylvia Tidy, East Sussex County Council's lead member for children and families said: "Jackie is an amazing person who has done so much to help teenagers in need of support and guidance, and we are extremely grateful to her.
"Offering space in your home to a teenager in need is not an easy decision to make, but we need more people like Jackie to make sure those who have not had the best start in life can get the help they need to become independent and successful adults."
To find out more about Supported Lodgings and how to become a provider, visit www.eastsussex.gov.uk/supportedlodgings or call 01424 726155.
Ends