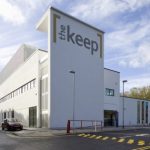 A CONSULTATION has launched into proposed changes to opening times at a local archive centre.
The Keep, run as a partnership between East Sussex County Council, Brighton & Hove City Council and the University of Sussex, would continue to open five days a week under the proposals.
The public would be able to visit the facility from 10am to 4pm on Tuesdays, Wednesdays and Fridays, and 10am to 1pm on Thursdays and Saturdays.
A spokesman for The Keep said: "The public sector remains under significant financial pressure and, as a result, The Keep partnership needs to find further savings.
"We have developed proposals which will help us achieve these savings while ensuring that all services and documents remain available to the public.
"It is important that any decision we make takes into account the views of the public and the potential impact these changes will have on them."
The Keep reopened earlier this month following closure during lockdown and, due to Covid-19 restrictions, is operating with the same opening hours as those proposed.
The spokesman added: "Despite the reduced opening hours, members of the public have still been able to easily access archives from the East Sussex and Brighton & Hove Record Office, the Royal Pavilion & Museums, Brighton & Hove Local History Collections and the University of Sussex Special Collections."
The proposed changes will mean The Keep is closed to the public on Thursday and Saturday afternoons, but it will remain open for staff and volunteers. The use of the centre for teaching by the University of Sussex would not be affected by the proposed changes.
Information about the collections held at The Keep is available online at www.thekeep.info and members of the public can browse the catalogues, book a visit and order documents. Work is ongoing to increase the services that can be accessed via the website.
The consultation is available at https://consultation.eastsussex.gov.uk/economy-transport-environment/keep-opening-hours/ Paper copies are available at The Keep or can be requested by calling 01273 336003. The consultation will run until Sunday, October 25.
Ends.