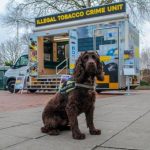 A CROWBOROUGH man caught selling illegal tobacco from a market stall has been ordered to pay £600 in fines and costs.
Richard Milham, of Queens Road , Crowborough, pleaded guilty the possession and supply of illegal tobacco when he appeared at Hastings Magistrates Court on Tuesday, September 15.
The 66-year-old was caught with £730 worth of rolling tobacco and cigarettes during an East Sussex Trading Standards inspection at Hailsham Market, prompted by a tip-off from a member of the public.
He was ordered to pay a fine of £161 and £571 costs. A destruction order was made for the tobacco which was not in the standardised packaging required in the UK and had not had tax duty paid upon it.
Richard Strawson, East Sussex Trading Standards team manager, said: "This is a great result for the team and sends out a clear message that we take the supply of illegal tobacco very seriously and will do everything in our power to tackle this problem and protect our residents."
He added: "This prosecution came from a tip off from a member of the public who attended one of our public roadshows which aim to raise awareness of the issue and give the public the opportunity to share intelligence about the sale of such goods.
"The sale of illegal tobacco brings organised crime into our communities, undermines efforts to discourage smoking and, in particular, encourages tobacco use among young people due to cheaper prices."
Anyone with information about illegal tobacco sales is urged to report it by calling the illegal tobacco helpline on 0300 999 6999 or online at www.stop-illegal-tobacco.co.uk
Ends.