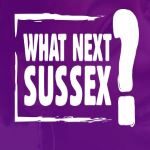 An innovative Sussex-wide virtual careers event will give Year 11 students an opportunity to learn about future study and career choices.
'What Next Sussex?', an online event showcasing routes and pathways after Year 11, will take place on Wednesday, November 4, and give students the chance to meet a range of specialists within the worlds of education and work.
Students from across Sussex will be able to find out more about their post-16 options from universities, colleges, providers and businesses, including further and higher education, vocational routes, apprenticeships and traineeships.
The event, which is jointly sponsored by the East Sussex County Council Careers Hub, Coast-to-Capital Careers Hub, the Careers Enterprise Company and Get Career Confident through Sussex Learning Network, has been developed in response to the pandemic as schools are unable to run their traditional in-person options evenings for students and their parents and carers.
Advice and support will be available through both recorded content and live chat in break out rooms with students able to ask questions and meet businesses from key sectors across the county. More details about organisations and employers attending can be found at https://www.getcareerconfident.co.uk/what-next-sussex-2/what-next-sussex-directory
Cllr Rupert Simmons, lead member for economy, said: "Supporting young people as they make key choices about their future is more important than ever in the light of the current pandemic, and we are delighted to be working with our neighbouring county colleagues to bring this virtual event to Year 11 students Sussex-wide.
"I encourage all our young people who are starting to look at their future career and further and higher education options to register for this free event and come along, ask questions and find out more about what their future may hold."
'What Next Sussex?' will be held virtually through 'Learn Live' over two sessions on Wednesday, 4 November. An afternoon session will run from 1.30pm to 3.00pm during school hours, followed by an evening session from 6.00pm to 7.30pm for parents, carers and young people.
To find out more and to register for the event visit https://www.getcareerconfident.co.uk/what-next-sussex-2/what-next-sussex-overview
Further information about careers, training, skills and jobs can be found at www.careerseastsussex.co.uk/advice