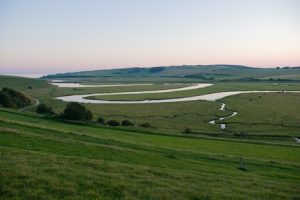 THE OWNERSHIP of an East Sussex beauty spot can be transferred to protect and enhance its future, the Government has said.
East Sussex County Council has been given the go ahead by the Department of Food Agriculture and Rural Affairs (DEFRA) and the Ministry of Housing, Communities and Local Government to transfer the Seven Sisters County Park site to the South Downs National Park Authority.
Although the site is not expected to be transferred until the spring, the approval means the legal process can begin.
Cllr Claire Dowling, lead member for transport and environment, said: "We are delighted to have been given approval to transfer the iconic Seven Sisters Country Park to an organisation with a great track record of conservation and safeguarding public access to the countryside, ensuring that it remains in public hands.
"Protecting our countryside sites for future generations is a top priority and the decision to transfer ownership was not one we took lightly, but we are confident that South Downs National Park Authority is better placed to manage and improve this site."
The South Downs National Park Authority has already pledged to invest £1.9m to improve the habitat and visitor facility at the 280-hectare site.
Trevor Beattie, Chief Executive for the South Downs National Park Authority, said: "We're pleased that the Government has given the green light to our bid and that the legal process can now begin to transfer ownership.
"Seven Sisters Country Park is an iconic site of international importance and we're looking forward to getting started on our vision of creating an outstanding habitat and world-class visitor experience that together do justice to the landscape and the location. We're grateful to East Sussex County Council for working with us to ensure the future of this important site."
Seven Sisters Country Park is one of four sites the county council agreed to transfer to not-for-profit organisations.
Newhaven Town Council is due to take on the freehold of Ouse Estuary Nature Reserve and the lease for Riverside Park next year. And discussions about the management of Ditchling Common Country Park are ongoing.
More information about East Sussex County Council's countryside access strategy and the sites it manages is available at www.eastsussex.gov.uk/leisureandtourism/discover-east-sussex/countryside-sites/
For more information about South Downs National Park Authority, visit www.southdowns.gov.uk