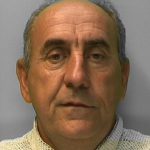 A ROGUE trader jailed for conning a pensioner out of more than £26,000 has been sent back to prison after paying less than 10 per cent of the court-ordered compensation.
Patrick Charles Lemmon, 59, appeared at Folkestone Magistrates Court on January 18 having paid just £2,200 towards the £26,950 confiscation order imposed in April 2019.
For his lack of commitment to make payments, the court returned Lemmon of St Johns Drive, Polegate to prison for 336 days.
Cllr Bill Bentley, lead member for communities and safety, said: "A vulnerable pensioner lost tens of thousands of pounds to this unscrupulous trader and officers did everything they could to make sure at least some of the money was returned.
"Despite serving a prison sentence for his crimes, Lemmon has failed to pay back the money owed to his victim and this is simply unacceptable.
He added: "We are pleased that the court has decided to take action and send Lemmon back to prison but hope that this shows him how determined we are to return the money to his victim."
Lemmon was originally jailed for 42 months after being convicted by a jury of two counts of fraud and seven counts of money laundering in July 2018.
Trading as Regency Paving Company from a premises in Cooden Sea Road, Little Common, Bexhill, Lemmon had told his 83-year-old victim that he needed a new conservatory roof and replacement glass panel.
He took five cheques from his victim but never started the work. The victim, who lived in Hastings area, received no paperwork; a quote, cancellation rights or receipts of payment.
During an investigation by East Sussex Trading Standards, an independent building surveyor concluded that, while the replacement pane of the glass was necessary, the roof of the conservatory did not need replacing. He said a fair and reasonable cost for both pieces of work combined would have been £1,305 inclusive of VAT.
Lemmon will still have to pay the remaining £24,750.00 to his victim with interest added on a daily basis.
If you, or someone you know, is vulnerable and has been a victim of fraud contact Sussex Police on 101. To report fraud or attempted fraud, visit www.actionfraud.police.uk or call 0300 123 2040.
For consumer advice, or to report a concern to Trading Standards, contact the Citizens Advice consumer helpline on 03454 040506, or by using their online reporting page which can be found at www.eastsussex.gov.uk
Ends.