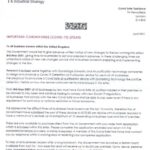 BUSINESSES across the county are being warned to be on their guard against scammers after fake Government letters were delivered in Eastbourne and Hailsham.
The hand-delivered letters, claiming to be from the Department for Business, Energy and Industrial Strategy, falsely claim that all businesses must, by law, have Covid-safe air purifiers installed by May 3 to be able to trade.
Trading Standards officers at East Sussex County Council were alerted to the scam after a number of letters were delivered to the Enterprise Shopping Centre in Eastbourne and to businesses in Hailsham, and fear they may have been distributed more widely.
Richard Strawson, Trading Standards team manager, said: "This shows just how low scammers will stoop to make money from innocent people, taking advantage of businesses struggling to bounce back from a year of lockdowns and restrictions.
"There is absolutely no current legislation requiring businesses to install air purifiers to combat Covid-19, and I would urge anyone who receives a letter to report it to Action Fraud or Citizens Advice.
"The requirements for reopening and advice for businesses is widely available on the Government website, through district and borough councils and from the county council, so please double check before you part with any money."
Anyone who has received a scam letter can contact East Sussex Trading Standards online at www.eastsussex.gov.uk/business/tradingstandards/reporting-an-incident/ , contact Action Fraud on 0300 123 2040 or Citizens Advice Consumer Helpline on 0808 223 1133.