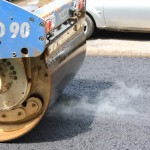 NIGHT-TIME road closures will be in place on the A259 in Newhaven from the beginning of June to allow for resurfacing work.
Work will start on Wednesday, June 2 and continue until Saturday, July 10.
While the road is closed streetlight improvements will also be carried out, along with sign cleaning and work to waterproof the deck of the swing bridge.
South Way will be closed to through traffic between 8pm and 6am, Monday to Saturday, from the Newhaven Swing Bridge at North Way to Brighton Road.
Access for residents will be maintained where possible but due to the nature of the work taking place there may be delays and the diversion route may need to be taken at times. The road will be open on Sundays.
When the road is closed, traffic will be diverted via the A259 Brighton Road, A259 South Coast Road, A259 Marine Drive, Roedean Road, Wilson Avenue, Warren Road, Falmer Road, A27 and A26, and vice versa.
Bus routes will also be affected by the road closures and people are advised to check with their bus company or visit www.buses.co.uk for information on changes to services.
Karl Taylor, head of operations at East Sussex County Council, said: "We appreciate the night-time closures of South Way will cause some disruption to road users and residents, and would urge people to plan ahead and try and avoid this area at night time next month.
"Resurfacing the road will help reduce future maintenance requirements and we need the road to be closed whilst this work is carried out to keep everyone safe.
"We apologise for any inconvenience caused."
Details of this and all forthcoming roadworks are available on the East Sussex Highways website.