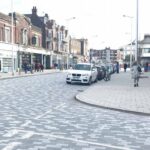 PLANS for the second phase of a scheme to modernise and enhance Eastbourne Town Centre are set to move to the final stage.
The proposals, drawn up following consultation with residents, businesses and other stakeholders and part of the Eastbourne Town Centre Improvement Scheme, were approved by the lead member for transport and environment on Monday, July 19.
Feedback from the public led to an extension of the pedestrianised area in Bolton and an increase in the number of disabled parking bays.
Approval from Cllr Claire Dowling will enable legal traffic orders to be advertised and construction work to begin on the scheme designed to help the vitality of the town.
Phase two of the joint county council and Eastbourne Borough Council scheme includes the installation of new public realm materials, seating, cycle parking and lighting between Bankers' Corner and Langney Road.
The existing pedestrianised zone in Terminus Road will be extended from Bolton Road to Langney Road, while the one-way sections of Bolton Road and Langney Road would be made two-way, with turning areas at each end.
Officers will continue to look at the availability of disabled parking bays in the town centre after concerns were raised about the loss of spaces from this phase of the scheme.
Speaking after the meeting, Cllr Claire Dowling said: "A significant amount of investment has already gone into transforming the area into a pedestrian-friendly town centre and this second phase is a continuation of our efforts to ensure Eastbourne can continue to thrive.
"With the Covid pandemic really taking its toll on local businesses and town centres, it's more important than ever that we complete this scheme and encourage as many people as possible to shop locally."
"We listened to feedback from residents, businesses and access groups and have been able to make changes to the plans to maximise the benefits of the improvements."
She added: "There will be some disruption while the work is carried out, but we would ask people to bear with us – the scheme will have real and lasting benefits for the town; improving pedestrian safety and accessibility, modernising the public realm and promoting health and sustainable travel."
The second phase follows the completion of the first stage of the joint East Sussex County Council and Eastbourne Borough Council scheme, which saw improvements around Eastbourne Railway Station, the section of Terminus Road between Ashford Road and Bankers' Corner and in Cornfield Road and Gildredge Road.
The latest work is funded by South East Local Enterprise Partnership, with £3million allocated.
Construction is planned to begin in spring 2022 and is expected to take around a year to complete.
Ends.