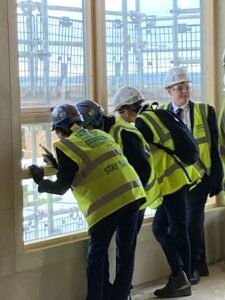 STUDENTS across East Sussex have been gaining insights into the world of work as the council's Open Doors scheme returns.
For six weeks during November and December, over 300 students from 13 schools have once again been offered the opportunity to visit 12 businesses across the county, allowing them to experience the workplace and learn more about possible career paths.
Face to face visits were unable to take place last year due to the coronavirus pandemic. Instead, a series of nine digital Open Doors videos were created with local employers, accompanied by digital resources, to enable young people to find out more about the future prospects available to them.
Cllr Rupert Simmons, the county council's lead member for economy, said: "I am delighted the Open Doors event has been able to return face to face this year, and am extremely grateful to the businesses taking part for giving young people the opportunity to experience the careers available in East Sussex.
"Projects such as these are so important to inspiring the next generation of entrepreneurs and business leaders who will be the ones to lead our county in the future."
The council initiative, which is supported by the East Sussex Careers Hub, aims to boost the career prospects of young people and inspire career choices by enhancing their knowledge and experience of the workplace.
As part of this year's Open Doors scheme, pupils from Uckfield College visited Morgan Sindall's construction site at Hailsham Community College.
Rob Hendley, Project Manager at Morgan Sindall Construction's Southern Home Counties business, said: "Hosting an Open Doors event at Hailsham Community College, a new three-storey school we're currently constructing, was an incredibly rewarding experience. The local students that joined us were eager to learn all about the construction process and we were asked many challenging questions throughout the day.
"Giving back to the local area is important at Morgan Sindall Construction, so we're really pleased to be able to be part of the Open Doors initiative. We hope that by better understanding how the modern construction industry works and the opportunities that are available, it will inspire students from the community to join what is an exciting sector that offers a wide range of possibilities."
Stephen Simmons, Sixth Form Director and Careers Leader from Uckfield College, said: "It is so important for young people to gain first-hand experience of the world of work.  The Open Doors initiative allows our students to see real workplaces and have genuine conversations with employers.
"The students we took are all studying engineering, so the visits to Metaltech and Morgan Sindall were particularly useful as they could find out about future career options that relate to their engineering course and see how what they were learning in class translated to the real world."
As well as the construction site, students from Year 7 to 13 have been able to visit a diverse range of businesses in Hailsham, Lewes, Newhaven, Rye, St Leonards and Uckfield, finding out what it's like to work in organisations including a wildlife charity, a nature reserve, an independent cinema, a dance theatre company, and an engineering firm.
The Mermaid Inn in Rye is a 15th century inn steeped in history. Martin Blincow, co-owner of the inn, said: "The Mermaid Inn participates in the Open Door programme as we seek to be a positive advocate for the hospitality industry and the various career opportunities it offers all over the world.  The Mermaid will be showing the available careers in the kitchen, front of house, reception, bar, housekeeping and hospitality management."
Vincent Dance Theatre in Brighton make collaboratively devised, interdisciplinary, high quality dance theatre, on stage, on film and online, addressing some of the challenging issues of our times.
Sian Williams, the dance company's Participation & Digital Development Director, said: "We are keen to introduce young people to different art forms that maybe speak more directly of their experiences.
"By visiting a small arts company and sharing the work of the company through the lens of the digital and participation job description, young people start to get a sense of the range of creative companies. They also begin to understand that there are lots of creative work roles around the making of art that form part of the wider creative industries employment picture.
"We always look forward to Open Doors and encouraging young people to engage in culture."
Due to the popularity of the project the Careers Hub is extending the scheme into the spring term when further workplace visits will be available to more students.
Cllr Simmons added: "We are keen to hear from more businesses that may like to be involved and I would urge any organisation that would like to inspire and encourage our young people to get in touch."
Businesses interested in opening their doors to groups of students in 2022 can contact OpenDoors@eastsussex.gov.uk.