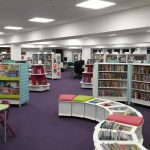 THE search is on for volunteers who can help bring stories to life and support others to access library services.
Rhymetime and Storytime sessions, homework club and code club are just some of the events that run across East Sussex with the help of volunteers.
With full support and training given by the county's library service, those giving their time to support others can learn new skills, meet new people and give something back to the community.
Cllr Claire Dowling, the county council's lead member, said: "We have a wonderful group of volunteers in East Sussex who support some fantastic clubs and groups but the more people willing to give their time, the more residents will benefit.
"We are looking for anyone who can provide a warm welcome, make stories come to life, are confident with computers or good at picking books for other people.
"As well as being able to help others, volunteering gives you the chance to pick up new skills, looks great on your CV and can increase your job opportunities."
Annie Harper had never volunteered before but was inspired to step in to ensure Rhymetime sessions could continue at Peacehaven library.
She said: "Knowing how important this free group was to me in the early stages of motherhood, I felt like I needed to step up and support them.  I was extremely nervous; I can sing but I'm not an expert but I went for it anyway.  I can honestly say, it was one of the best decisions I had ever made.
"I was extremely well supported by all involved and have made some really lovely friends at the library. Singing and dancing with the babies & toddlers each week and seeing their little smiles, would bring me so much joy.  I'm so happy that I can give back to my community that helped me when I needed it."
To read about more about the experiences of volunteers already involved in their local library, visit https://your.eastsussex.gov.uk/2021/06/01/volunteer-at-your-local-library/
There are many volunteer roles available at East Sussex libraries, full details of which can be found at https://new.eastsussex.gov.uk/libraries/local/library-volunteers
Ends.