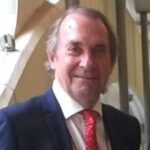 AN East Sussex councillor has become the new chairman of an association representing England's 10,000 local councils and their 100,000 councillors.
Cllr Keith Stevens, chair of Wartling Parish Council, was elected to chair the National Association of Local Councils (NALC) last month and took up the post on Wednesday, December 8.
NALC represents the interests of parish and town councils, raises awareness of their work and supports them through campaigning.
Congratulating Cllr Stevens, East Sussex County Council's Leader Cllr Keith Glazier said: "Parish and town councils play an important role in the county's decision-making process and the work it does, and we are delighted to welcome an East Sussex resident as chair.
"It has been an extremely difficult couple of years for all tiers of Government and it's vital that we work together to aid the recovery of the county and the country as a whole."
As well as chair of Wartling Parish Council, Cllr Stevens is chair of East Sussex Community Voice, which delivers HealthWatch to East Sussex, and was previously chair of the East Sussex Association of Local Councils.  He served as NALC's vice-chair for the last four years.
Cllr Stevens, who will serve a two-year term, said: "My priorities will be ensuring that local councils are recognised and acknowledged as the first tier of local government, continuing to improve and develop our organisation and services, extending our engagement with local councils and growing our membership."
Ends.