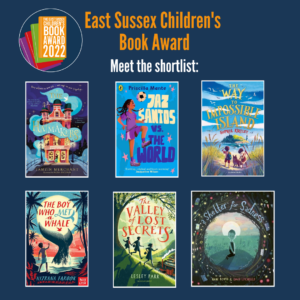 SIX CHILDREN'S books have been shortlisted for the East Sussex Children's Book Award 2022.
Children aged between eight and 11 years old are being invited to read the newly published books before voting for their favourite in May. An awards ceremony to announce the winning author will be held in June.
All the shortlisted books, including e-books, are available to borrow for free from East Sussex libraries and families and primary schools across the county are being encouraged to take part.
Participating schools will receive a Book Award support pack and invitations to author events. Pupils will also be able to enter competitions and submit questions for the shortlisted authors. It is free for schools to register.
Cllr Claire Dowling, lead member at East Sussex County Council, said: "The East Sussex Children's Book Award encourages older primary school children to read for pleasure, promoting a life-long love of reading.
"I hope that many local schools will join us in this celebration of children's literature and register to take part in the awards.
"And I urge our young readers to read as many of the fantastic, shortlisted books as they can before voting for their favourite next spring."
The shortlisted books, which include enchanting fantasy, thrilling adventure and gripping mystery, are:
The Hatmakers by Tamzin Merchant
The Way to Impossible Island by Sophie Kirtley
The Valley of Lost Secrets by Lesley Parr
Jaz Santos vs. the world by Priscilla Mante
A Shelter for Sadness by Anne Booth
The Boy Who Met a Whale by Nizrana Farook
For more information on each book and details of how to register and vote, visit www.eastsussex.gov.uk/ESCBA