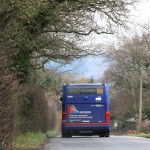 WORK is underway to confirm vital funding which will help improve bus services across the county.
East Sussex County Council received an indicative funding allocation from central Government of up to £41,415,02 to implement its Bus Service Improvement Plan (BSIP) – proposals to help the council and bus operators improve services and increase the use of public transport.
Officers are now working on detailed plans, delivery timescales and costs to secure the full three-year Bus Back Better funding from the DfT.
Cllr Claire Dowling, lead member for transport and environment, said: "We made an extremely ambitious funding bid to the DfT and I am delighted that we have manged to secure this indicative funding allocation.
"The funding will not cover every measure put forward in our initial BSIP, so it's incredibly important that we carefully prioritise the proposals we take forward to allow us to deliver the most significant improvements to bus services possible."
The Bus Service Improvement Plan includes a number of proposals such as significant investment in key bus corridors across the county, improvements to services linking rural and town communities, improvements to town centre services, improving passenger information and reducing and simplifying fares.
The document was drawn up in conjunction with bus operators and based on information shared through a public survey.
Once the county council knows the level of funding, full details and costs on specific schemes will be developed, including public consultation on certain proposals.
Ends