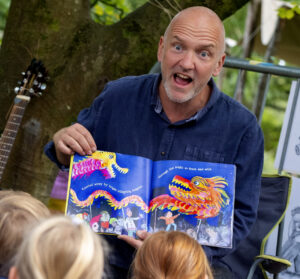 EAST SUSSEX Libraries will be running a series of events across the county during May half term to celebrate the Queen's Platinum Jubilee.
Free events include Jubilee themed Rhymetime and Storytime sessions, crown making craft workshops and author led storytelling events.
Children's author Ed Boxall will be reading from his latest book, Carried Away With The Carnival, at Heathfield Library, celebrating the Jubilee with stories and songs.
Children are invited to join Ed at 11:00am on Monday, May 30 for an hour's fun and frivolity.
Author and storyteller Wendy Shearer will be exploring her book Bedtime Stories: Beautiful Black Tales from the Past from 11am at Hastings Library on Tuesday, May 31.
The book is an inspiring collection of tales for young readers based on important figures and events from around the world. Wendy is a professional storyteller whose style of storytelling encourages all ages to get involved with bringing the stories to life.
Jubilee craft and colouring sessions will be held at several libraries throughout the half term week including Bexhill, Eastbourne, Hollington, Hailsham, Newhaven and Rye.
Youngsters of all ages are encouraged to drop in and enjoy craft activities such as decorating crowns, making Jubilee friendship bracelets and colouring royal themed pictures.
Children under five and their parents and carers can celebrate the Jubilee with royal stories and songs at special Rhymetime and Storytime sessions at Battle, Crowborough, Heathfield and Lewes libraries.
In addition, The Reading Agency's Big Jubilee Read campaign is being supported by East Sussex libraries. The campaign celebrates writing from across the Commonwealth by sharing 70 great reads from Her Majesty Queen Elizabeth II's 70-year reign.
The Big Jubilee Read booklist comprises ten books for each of the last seven decades, offering brilliant, beautiful, and thrilling writing produced by authors from a wide range of Commonwealth countries.
Cllr Claire Dowling, lead member for transport and environment at East Sussex County Council, said: "There is a great selection of activities taking place later this month at libraries across the county in celebration of Her Majesty the Queen's Platinum Jubilee.
"All of the books selected for The Big Jubilee Read, which have been chosen by an expert panel of librarians, booksellers and literature specialists, are available at East Sussex libraries.
"I encourage residents to visit their local library to see what's happening and to take part in the Big Jubilee Read campaign – our library team would love to hear from anyone who reads all 70 titles!"
The Keep Archive Centre holds a wealth of materials relating to the Coronation and some of the most interesting and iconic items will be on display in the lead up the Platinum Jubilee weekend.
Items on display include newspaper cuttings, a special Coronation Celebration souvenir programme and photographs from across the county which all provide a look back at how Sussex celebrated this unique historical event.
All the Platinum Jubilee events in East Sussex libraries, which run from Friday, May 27 to Saturday, June 4, are free but booking may be required. For more information and to book, please visit www.eastsussex.gov.uk/Jubileelibraryevents
Further details about The Big Jubilee Read including the booklist is available online at https://readinggroups.org/big-jubilee-read
Information on the Coronation display at The Keep can be found at www.thekeep.info or via Twitter and facebook @thekeeparchives and Instagram @the_keep_archives.