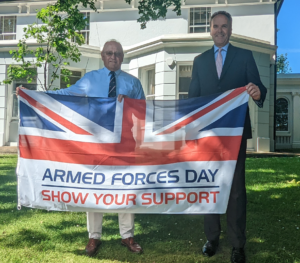 EAST Sussex County Council is once again flying the flag to mark the crucial role played by Britain's armed forces.
The armed forces flag will fly at County Hall, in Lewes, all this week to mark Armed Forces Day, an annual event which this year falls on Saturday, June 25.
The event is intended to raise awareness of the contribution made by the nation's servicemen and women and to show support for the armed forces.
Cllr Bob Bowdler, the county council's Armed Forces Champion was joined by the Lord-Lieutenant for East Sussex, Andrew Blackman, in raising the flag today (Monday, June 20). He said: "As a nation we owe so much to the men and women of our armed forces. Their dedication to serving this country and the bravery many have shown in conflict, are things we should never take for granted.
"We raise this flag every year as a public declaration of our support and thanks for servicemen and women, service families, veterans and cadets across the country, but especially those from East Sussex."
In 2018 the council was awarded a national accolade for the support it gives to the armed forces community. It received a silver award under the Ministry of Defence Employer Recognition Support Scheme, which honours employers that show a commitment to supporting current and former military personnel.
The council is a signatory to the Armed Forces Covenant, a promise that those who have served in the armed forces are treated fairly and suffer no disadvantage. The award was recognition of the support the council gives to armed forces cadet volunteers, and to members of the Army Reserve – who receive 18 days' paid leave every year to undergo military training, and the way it has trained  members of staff as armed forces 'champions' under the MoD-funded Forces Connect South East programme.
More information about Armed Forces Day is available online at www.armedforcesday.org.uk