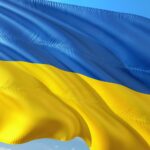 WORK to support Ukrainian guests to integrate into East Sussex communities has been given a boost of almost half a million pounds.
With 1,460 Guests expected in the county, East Sussex County Council is distributing £490,000 to Voluntary Action groups (VAs) to help them support the work of local networks and community hubs.
The new Homes for Ukraine (HfU) Community Support Grant Fund will enable VAs to make grants of up to £5,000 towards activities that support Guests arriving as part of the Governments' Homes for Ukraine programme to access transport and services and benefit from social interaction and wellbeing activities.
Cllr Carl Maynard, lead member for adult social care and health, said: "I am delighted that we are able work with our brilliant Voluntary Action groups.  These groups have the knowledge and expertise to ensure this Government funding has the greatest benefit for those seeking refuge in East Sussex
"It's impossible to imagine what these people have faced and what they continue to go through, but it's heartening to see the level of support for HfU Guests arriving in communities across the county.
"This funding will enable the longer-term planning of activities that will help those arriving in East Sussex to feel safe and supported and able to connect with fellow refugees."
The fund is being administered and managed by the 3VA, covering Wealden, Lewes and Eastbourne areas, Hastings Voluntary Action and Rother Voluntary Action, in collaboration with East Sussex County Council.
It is hoped that the funding will help to provide a range of support including meeting spaces for Guests and Hosts, community transport to access services and activities, access to language courses and other educational activities, support with form filling and making appointments and wellbeing activities.
Local groups providing support as part of the HFU scheme can contact their local VA for more information on how to apply for funding.
Ends.