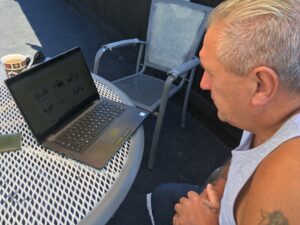 AN INNOVATIVE education website has been launched for the Gypsy Roma Traveller (GRT) Community and teaching professionals.
The new website, The Stopping Place, has been designed to improve the educational experience of GRT families in East Sussex.
Believed to be the first website of its kind, The Stopping Place has been developed to encourage a greater understanding of school life and help families access the support they may need. The site also provides education professionals with valuable insight into GRT customs and beliefs.
Cllr Bob Standley, lead member for education and inclusion, special educational needs and disability, said: "I am delighted we have launched The Stopping Place and at the positive feedback we have received from the Travelling Community.
"Consistent, comprehensive education is vital for all our young people, and we are working with the GRT Community to improve the educational attainment of GRT children.
"The new website will provide families with welcoming and accessible information about education in East Sussex to help them make informed decisions for the children and young people in their care."
The Stopping Place includes comprehensive information about what GRT parents can expect from the education system in East Sussex and offers support for children as they progress through school.
Dedicated pages for education professionals include guidance and advice on GRT cultural traditions and beliefs, training, and lesson plans and resources.
The site also includes information to help and support GRT families with children with special educational needs and disabilities.
Tommy Buck, from the Brighton based charity Friends, Families and Travellers, said: "The website is absolutely fantastic and one that is it is definitely needed. It is extremely informative and accessible for everyone.
"The three themes the site focuses on – young people, parents and professionals – are important factors in determining whether a young person attends school in the first place, and whether they remain in the education system long-term which affects attainment and long-term job opportunities.
"The professionals section will also support teachers helping the GRT community and enable them to understand key events and issues that are important to the Community.
"I applaud all the hard work invested in this."
East Sussex County Council has co-produced the site with members of the Travelling Community and education professionals.
The site has been designed to be fully accessible following extensive research with GRT families and includes audio and video prompts as well as icons and pictures to help parents who do not read or write.
The Stopping Place is available at https://thestoppingplace.eastsussex.gov.uk/