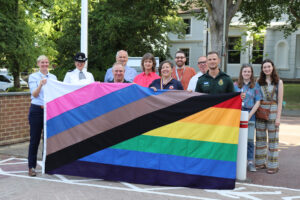 A NEW rainbow flag is flying above County Hall in Lewes to mark this year's Pride celebrations.
The iconic flag was raised on Tuesday, July 19, in support of equality and diversity. Pride events are returning across the county this year, following two years of events being restricted or cancelled due to the pandemic.
The Rainbow flag has been updated to the New Pride flag, which encompasses not only lesbian, gay and bisexual but also trans, people of colour and others.
Representatives from East Sussex County Council, Sussex Police, East Sussex Fire and Rescue Service, South East Coast Ambulance Service, and Sussex Community NHS Foundation Trust gathered to show their support for the LGBTQ+ community.
Cllr Keith Glazier, leader of East Sussex County Council, said: "We're delighted to raise the rainbow flag to show our support for Pride and our commitment to supporting equality and diversity in our communities.
"Pride events in East Sussex attract visitors from around the world, and it is wonderful to see them taking place once again this summer."
Chief Fire Officer Dawn Whittaker, who attended the event on behalf of East Sussex Fire and Rescue Service, said: "East Sussex Fire and Rescue Service are proud to serve everyone in our communities and also have strong values associated with Equalities, Inclusion and Diversity, we value difference."
Chief Superintendent – East Sussex Divisional Commander Katy Woolford who also attended the flag raising event, said: "I am honoured to join colleagues from East Sussex County Council, SECAmb and East Sussex Fire and Rescue Service in showing our support for equality, diversity and inclusion in our communities. I wish everyone attending the Pride events across the county a fantastic day."
Tony Faraway, paramedic and Chair of the Pride in SECAmb Staff network, said: "I am pleased to have this opportunity to support the Council, on behalf of South East Coast Ambulance Service, in showing its support of LGBT+ inclusion through the raising of the flag today.
"Pride is a celebration of the progress that has been made towards equality. It is also a reminder of how far there is still to go, as can be seen for example in recent times both in how the progress of trans rights has encountered obstacles in this country, or how LGBT+ rights that had been gained abroad have been reversed. Continued support is both needed and much appreciated."
Jess Dare from the Sussex Community NHS Foundation Trust LGBT network said, "After two-years, we are excited to celebrate Pride in our community in person again.
"Staff across Sussex Community NHS Foundation Trust will proudly participate in this year's Brighton & Hove Pride Community Parade as well as other Pride activities across Sussex to demonstrate that we are an inclusive NHS care provider that serves the whole community regardless of sexual orientation or gender identity, and without discrimination. These events provide an opportunity for our staff to express and celebrate who they are together with LGBTQ+ allies."
This year's Brighton and Hove Pride runs from Friday, August 5 to Sunday, August 7, with the Pride Community Parade passing through the city centre from 11am to 4pm on Saturday.
Eastbourne Pride 2022 is taking place this coming Saturday, July 23. Next month, Seahaven Pride and Family Festival will be happening on the Martello Fields, Seaford on Saturday, August 27, and Hastings Pride is on Hastings Pier on Sunday, August 28.