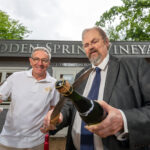 SUSSEX wine growers have joined with East Sussex County Council to celebrate after the county's wine gained Protected Designation of Origin (PDO) status.
The PDO designation was granted by the Government's Department for Environment, Food and Rural Affairs and means that Sussex wine has the same legal status as produce such as Scotch whisky, Welsh lamb, Cornish clotted cream and Jersey Royal potatoes.
The announcement of the Protected Designation of Origin covers products that are "produced, processed and prepared" in a specific area, using a particular – usually traditional, method.  The PDO encompasses Sussex sparkling, still and origin wines.
One Sussex wine grower to welcome the move is Hidden Spring Vineyard at Vines Cross Road in Horam. Vineyard owners joined with Councillor Rupert Simmons, lead member for economy at the County Council, recently to highlight the initiative.
Councillor Simmons said: "The PDO announcement is welcome news for Sussex, our growing viticulture sector, and the local tourism industry.
"Tourism generates over £5bn for the local economy, supporting 74,000 Full Time Equivalent jobs. The PDO designation will support our ambitions to grow our overseas tourism market and boost local tourism campaigns promoting Sussex as a wine growing region.
"We encourage the wine estates across East Sussex to embrace this designation to raise the profile of the county for the benefit of their own businesses, the tourism sector and the wider economy."
The recognition will also help Sussex PDO wine producers communicate the excellence of their product to consumers in the UK and abroad.
Richard Asman, Business Development Partner at Hidden Spring Vineyard, said: "We are very proud of the wines we produce and to now be part of the new Sussex PDO.
"PDOs are recognised worldwide as areas producing products of exceptional quality, and English wines are rapidly being recognised as such. We believe the new Sussex PDO will focus global attention on our wines and will benefit our country's viticulture industry as a whole.
He added: "I am sure that in future, other local PDOs will be recognised and formalised as our wine industry grows and continues to attract attention from the wider global market."
For more information on Sussex wine's protected status visit https://www.gov.uk/protected-food-drink-names/sussex
Ends