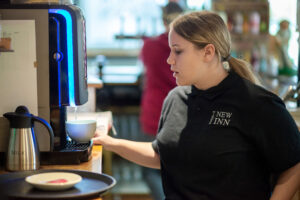 MORE than 3,600 students from across East Sussex have been given an insight into the world of work thanks to the council's work experience scheme.
Coordinated by East Sussex County Council's Work Experience Team, the initiative offers workplace opportunities to students aged 14 to 18.
During the last academic year, pupils from 32 schools were offered placements with over 1,400 businesses across the county providing valuable hands-on workplace experience.
The placements allow students to gain a better understanding of East Sussex businesses and hear what employers expect of their staff, as well as providing them with the opportunity to get information directly from businesses and learn about career pathways.
Libby, a year 10 student at Robertsbridge Community College, decided that a work placement in hospitality would help her confidence and secured work experience at the New Inn pub in Westfield.
Libby worked front of house, taking orders from customers and waitressing. She said: "My favourite part of work experience was taking orders. I love talking to the customers, interacting with them, seeing how their lives are.
"The placement has definitely inspired me to be more confident. It's helped me improve my time keeping, teamwork and communication. My work experience placement was helpful, encouraging and amazing, and I've been offered a weekend job which is great!"
Patrick Edwards, Company Director, New Inn, said: "I believe in giving young people a chance to learn on the job. It's how I learnt. I started off on an apprenticeship 25 years ago, so when Libby came and asked about work experience, I was pleased to say yes.
"She's developed so much during her work placement with us, gaining in confidence and I was delighted to offer her a part time job. Nothing is too much trouble. She's very polite and is going to do well in life."
Employers from a wide variety of business sectors offered placements to students this year including manufacturing, construction, engineering, catering, health care, teaching, retail and tourism.
Cllr Rupert Simmons, lead member for economy at East Sussex County Council, said: "I am delighted that so many of our students have been able to experience the world of work and learn about the future opportunities available to them.
"During Covid far fewer pupils were able to enter workplaces or undertake work experience placements. Our schools are now really driving forward with encouraging students to undertake a work placement to develop their work-related skills and make decisions about their future career as these opportunities are crucial for when they come to enter the job market.
"I want to thank our team at the council, staff in schools and colleges, and employers and partners across the county for working so hard to offer these important experiences to our young people."
The council is keen to hear from businesses across East Sussex who would like to offer work experience placements to students during the current academic year.
Businesses interested in finding out more should contact workexperience@eastsussex.gov.uk.