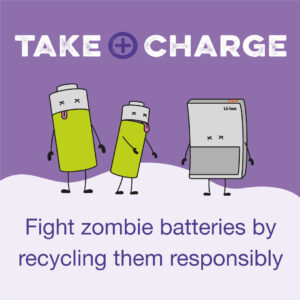 RECENT fires at waste sites and on collections vehicles have prompted fresh calls for people in East Sussex to dispose of batteries correctly.
Although the cause of all the fires has not been confirmed, the council and its waste partners, Veolia and N+P, fear batteries that have been incorrectly disposed of are to blame for many of the incidents.
A new Zombie Battery campaign is being run over the Halloween period to remind residents not to throw dead batteries into their waste or recycling bins. Many residents are unaware of the potentially serious consequences, including endangering life, that disposing of batteries in this way can have.
Every year in the UK around 22,000 tonnes of portable batteries end up in people's rubbish bins or mixed with other recycling where they can become a fire risk.
Batteries that are incorrectly disposed of can explode or ignite after being squashed, compacted, punctured, soaked in liquid or exposed to heat at waste sites or on collection vehicles.
There is also a risk that batteries, especially lithium-ion batteries, that are incorrectly thrown away could cause a fire in people's waste or recycling bins.
There have been nine fires at waste sites in East Sussex so far this year, including three where the cause has been attributed to batteries found in the waste material.
Cllr Claire Dowling, lead member for transport and environment, said: "Disposing of batteries with general waste and recycling can have extremely serious consequences, disrupting waste services and endangering lives.
"We are asking residents to join the fight against zombie batteries and ensure they recycle dead batteries responsibly to help prevent these dangerous fires.
"This is a nationwide problem, with lithium-ion batteries being responsible for more than 250 fires at waste sites in the UK between April 2019 and March 2020. And we have experienced several serious incidents ourselves in East Sussex in recent months.
"Please remember – never bin batteries."
All of the county's Household Waste Recycling Sites, as well as many larger shops and supermarkets, will safely collect dead batteries for onward recycling.
Households in Rother, Wealden and Hastings can also dispose of their batteries and other small electrical items at the kerbside by placing them in a carrier bag on top of their recycling or rubbish bin.
Residents in Eastbourne and Lewes can take their batteries to a Household Waste Recycling Site or a supermarket, DIY store and some larger high-street shops.
Batteries can be found in many household items including electric toothbrushes, DIY tools and some toys and games and these often get overlooked. Items with sealed batteries such as these can be recycled through the kerbside collection service or at Household Waste Recycling Sites.
More information about the campaign and details of the best places across all areas of East Sussex to safely dispose of batteries can be found at www.takecharge.org.uk.
Residents in Rother, Wealden and Hastings can find out more about disposing of batteries and other electrical items at the kerbside by visiting https://your.eastsussex.gov.uk/2020/11/27/recycle-your-old-electricals-from-home/.