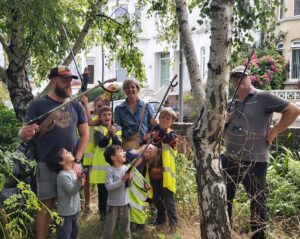 PEOPLE can find out how East Sussex communities are creating positive change in their neighbourhoods at a special event.
The Bigs Sparks event will give communities the chance to share their stories and skills as well as connect with others with similar ideas.
The event will also provide organisations, funders and decision makers with the opportunity to hear first-hand what communities are doing to make positive change and to explore what might be achieved together.
Organised by Making It Happen, a programme funded by East Sussex County Council, the free event will take place in The Floral Hall at the Winter Garden Centre, Eastbourne on Thursday, November 10.
Making It Happen works with residents in East Sussex who want to build on the positive things that exist in their neighbourhood to develop and grow positive change in their communities.
Darrell Gale, Director of Public Health for East Sussex, said: "This event has been designed by community members and community groups across East Sussex and is a brilliant showcase of some of the inspiring projects across the county that contribute so much to creating healthier places and reducing health inequalities.
"Big Sparks will help people to make connections and build relationships between the wide range of organisations taking part in a way that is fun and interactive."
Activities on offer over the course of the afternoon include films, performances, art exhibits and a popup gallery, as well as demonstrations and arts and crafts workshops.
People will be able to join in conversations and skills sharing sessions on topics including climate, community building, wellbeing, stigma, and the environment.
Information, advice, and guidance on planning a project, setting up a group and getting funding will also be available.
A community member involved in the event said: "So many people are doing amazing things that are changing lives and adding value to our essential public services. This event is about celebrating that and encouraging more of those sparks.
"This isn't something that can be taught in a classroom – you have to get out there and do it together. This is what Asset Based Community Development is about – we have hand skills, people skills, wisdom and lived experiences to 'do it'."
Taking place from 2pm to 6pm, Big Sparks is open to everyone who lives or works in the county. Children are welcome with their parents or carers and refreshments will be provided.
To find out more and to book, visit https://making-it-happen.org.uk/about-us/learning-opportunities/