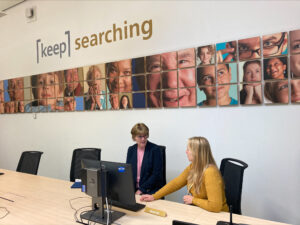 EAST Sussex residents are being encouraged to find out more about their family history with free access to over six million digitised Sussex parish records.
Baptism, confirmation, marriage, death and burial records spanning 457 years of Sussex history are now available to search online on Ancestry, the world's largest genealogy website, with free access available at The Keep.
Cllr Claire Dowling, lead member for transport and environment at East Sussex County Council and a resident of the East Sussex town of Uckfield, recently visited The Keep to research her own family tree.
Cllr Dowling said: "I have been researching my family tree for a while, and I want to see if I can trace my father's family.
"The free access to Ancestry that is available at The Keep is a fantastic resource which means I can look at over 450 years of Sussex parish records as well as search records nationwide."
During her visit Cllr Dowling discovered some interesting entries in the Uckfield parish baptism registers, including William Clarke who was baptised in June 1633 and whose mother was listed as 'a travelling women and fortune teller'.
On January 24, 1637, the register records the baptism of Mary Gibbons, the daughter of 'puppet players' Matthew and Mary Gibbons.
A further listing for the baptism of Joan Vincent on May 21, 1635, contains the details of her mother 'Denice, a widow' and 'reputed father Ralph Chatfield, senior', highlighting the importance of including the father's details even if these were uncertain. His details would be included on the entry so the parish could ask him to provide some financial support for the child and her mother.
The entire Sussex Parish Registers collection has been brought online through an exclusive collaboration between the East Sussex and Brighton and Hove Record Office, the West Sussex Record Office and Ancestry.
The records were digitised over the course of the pandemic when visitor access to The Keep was limited.
Cllr Dowling continued: "I would encourage anyone who is interested in their own family history to visit The Keep, take a step back in time and search through these amazing historical documents.
"Having the Sussex Parish Registers available online offers visitors quick and easy access that will hopefully enable more people to discover the stories from their past."
People interested in researching their family background but who are unsure where to start may like to attend one of the centre's visitor introduction sessions.
'Welcome Wednesdays' offer an opportunity for first time visitors to learn more about The Keep and the specifics of conducting research at the centre.
The sessions are held on the first Wednesday of each month between 10am and 12noon, and give visitors the opportunity to go behind-the-scenes and see the centre's state-of-the-art document repositories, conservation studio and digitisation suite. Expert staff are also on hand to answer questions.
To find out more about visiting The Keep, or to book a place on a Welcome Wednesday session, visit www.thekeep.info/
Free access to Ancestry is also available at all libraries across East and West Sussex.