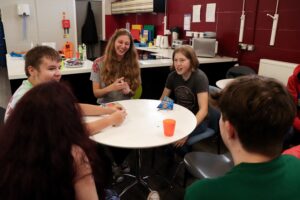 A NEW Special Educational Needs and Disability (SEND) strategy to enable young people to reach their full potential in every area of life has been launched.
The SEND Strategy 2022-2025 will be used to inform the work of everyone working with children and young people with SEND across East Sussex, giving them the opportunities and support they need to achieve their ambitions and prepare for adult life.
The strategy has been designed to improve access to education which is inclusive and reflects the needs of children with SEND, ensure opportunities are fully accessible so young people can develop life and workplace skills, and provide the ongoing support families and young people need.
Families, schools, and other professionals from services in areas such as social care and health took part in a ten-month consultation process to develop the strategy, that included extensive work with children and young people to identify areas for improvement.
The new strategy also incorporates the recommendations made following the 2021 SEND Joint Strategic Needs Assessment, which identified those areas where support for children and young people with SEND could be strengthened as well as the successes that could be built on.
The strategy is structured around five aspirational outcomes for children and young people:
Participation – my voice is heard and acted upon;
Physical and Mental Health – my optimum health and well-being are supported;
Safety and Security – I feel confident and secure;
Inclusion and Belonging – I belong and feel valued for who I am; and
Progress and Achievement – I am supported to develop and achieve my goals
The need to ensure education, health and social care professionals work together and take responsibility for their decision making is also highlighted as a priority.
Councillor Bob Standley, lead member for education and inclusion, special educational needs and disability, said: "The new SEND strategy continues our high level of ambition for children and young people with SEND and their families in East Sussex, and has been developed with their views and perspectives at its heart.
"This strategy is about making life better for children and young people with SEND. Delivering the ambitions set out in it will require all of us to work together, and we are determined to continue to invest in our relationships with children, parents, carers and colleagues to achieve those aims.
"We want every child and young person with SEND to reach their full potential at home, in school, and in their communities, and this strategy will help us achieve that."
An East Sussex SEND Strategy Governance Board has been established which will oversee SEND work across the county and monitor the delivery of the strategy.
The SEND Strategy 2022-2025 is available online at https://eastsussex.pagetiger.com/dalsgmf
A short video about the strategy can be viewed at https://youtu.be/o9aPByz5JYo