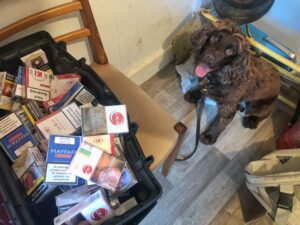 AN EASTBOURNE man has been given a custodial sentence after being caught selling counterfeit tobacco and cigarettes.
Nezar Shaban Hadi was convicted at Hove Crown Court following an investigation into his store – Little Convenience on Pevensey Road – by officers from East Sussex Trading Standards.
The 38-year-old from Grove Road in Eastbourne was found guilty of two counts of breaching the Trade Marks Act and five counts of supplying tobacco in non-standardised packaging.
Hadi was sentenced to one month's immediate custody to run concurrently for each breach of the Trade Marks Act and one week's custody, to run concurrently, for each of the remaining five counts.
Officers visited the store on July 2, 2019 with a specially trained tobacco detection dog. Although no tobacco was found, the detection dog gave an indication of tobacco around an empty toolbox found in a storage area.
Following a second inspection a week later, hand rolling tobacco and cigarettes were found inside the toolbox and more tobacco products were found in a cardboard box behind it.
Trading Standards revisited the store in August and found two pouches of illegal hand rolling tobacco. In September, following a further inspection, a quantity of illegal cigarettes was discovered hidden in a hole in the wall behind the till.
Hadi did not attend his trial and was convicted and sentenced in his absence. There is an outstanding warrant for his arrest.
Sentencing Hadi to one month's immediate custody, Recorder Brock said: "The jury unanimously convicted him of seven counts.
"Mr. Hadi had occupation of a small shop in 2019 that sold legal tobacco. It also sold illegal tobacco. He persisted with his criminality… Such sales were done for financial gain.
"There is a real risk to the health of people who smoke [the tobacco]. In all the circumstances, I consider this so serious that only a custodial sentence is appropriate."
Andy Clooney, East Sussex Trading Standards team manager, said: "This conviction is another warning to those involved in the sale of counterfeit tobacco that we are committed to finding and prosecuting those who persist in this illegal activity.
"We take the supply of illegal tobacco very seriously and will do everything in our power to tackle this problem and protect our residents."
A forfeiture and destruction order was made for the tobacco seized. Hadi was also ordered to pay prosecution costs of £9955.28.
Anyone with information regarding the whereabouts of Nezar Hadi should contact Sussex Police by calling 101.
Members of the public are encouraged to play their part in helping East Sussex Trading Standards keep illegal tobacco products off the streets by reporting anything suspicious.
Information about illegal tobacco sales can be reported to the illegal tobacco helpline on 0300 999 6999 or online at www.stop-illegal-tobacco.co.uk