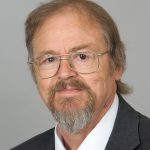 TRIBUTES have been paid following the death of a long-serving county councillor who died at the age of 70.
Cllr Rupert Simmons, who represented the Heathfield and Mayfield division and served as a Cabinet member responsible for economy, died on Monday, April 17.
Paying tribute to his friend and colleague, Council Leader Cllr Keith Glazier said: "Rupert was a respected member of this council, who brought a wealth of experience and worked tirelessly to represent his community, as well as the interests of businesses across the county in his role as lead member.
"We were shocked by the news of Rupert's death. He will be greatly missed by councillors and officers alike and, on behalf of everyone at East Sussex County Council, I'd like to send our sincere condolences to his family and friends."
Cllr Simmons graduated from Reading University with an honours degree in Estate Management before embarking on a colourful and varied career which took him around the globe.  His working life began in Surrey where he practiced as a chartered surveyor before deciding to travel around Europe.
He eventually settled in Oslo where he worked in an advertising business before moving to Vienna where he set up a music business.  Following his success, he moved to Connecticut in the USA to recreate the business.
Cllr Simmons' interest in politics was sparked when he subsequently worked in the Democrat Presidential Campaign Team for Vice-Presidential candidate Walter Mondale in 1984.
Returning to the UK, he worked at London Weekend Television before joining the Observer Newspaper where he rose to the Management Executive and became publisher of the Colour Supplement.  In 1989 he became a partner and published the Investment Trusts Magazine.
After moving to Waldron in 1990, Cllr Simmons soon became involved in local politics and served his community for a quarter of a century having been elected to Heathfield & Waldron Parish Council in 1997, Wealden District Council in 1999 and East Sussex County Council in 2001.
In his own division, Cllr Simmons chaired the Heathfield Partnership Trust for 20 years and was well known and well-respected among residents.
Outside politics, Cllr Simmons' interest were varied.  He was an avid Liverpool FC fan and an enthusiastic follower of American Football.  He had a love of jazz music and an extensive record collection.
The East Sussex County Council flag was raised and lowered to half-mast in tribute to Cllr Simmons', while councillors attending Tuesday morning's Cabinet meeting fell silent to remember him.
Ends.