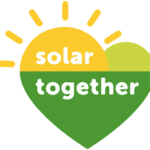 HOMEOWNERS in East Sussex are once again being invited to register for a solar panel scheme which could help cut their carbon emissions and save them money.
Residents have until Friday, April 21 to register with Solar Together Sussex, a group-buying supported by East Sussex County Council which allows residents to buy high-quality solar panels and battery storage at competitive prices.
The scheme, which could help residents reduce their annual carbon emissions by around a tonne each year, will support the county council's efforts to help tackle climate change.
Those who have already invested in solar panels and are looking to get more from the renewable energy they generate can also take advantage with retrofit battery storage also available.
Registration for the initiative, run in partnership with group purchasing experts iChoosr, is free of charge.
Following the registration period, an auction will be held with pre-approved UK solar PV suppliers to identify the most competitive deal.  Residents will then be contacted with a personal recommendation specific to the details they submitted in their registration.
The Solar Together programme has run across the UK for six years and in that time delivered more than 14,000 installations and helped households avoid 300,000 tonnes of lifetime carbon emissions.
Marie-Louise Abretti, iChoosr UK Solar Manager added "With energy prices continuing to increase, East Sussex residents are looking for opportunities to reduce their carbon emissions, save on energy bills and increase their independence from the grid.
"The Solar Together group-buying scheme offers a straightforward way to make an informed decision and to access a competitive offer from a trusted, vetted provider."
More information about the scheme, and details on how to register an interest can be found at www.solartogether.co.uk/sussex
Ends.